Prestige Imports Print Ad – Omar Bolden's Audi A8L – #SeeBoldenRun
---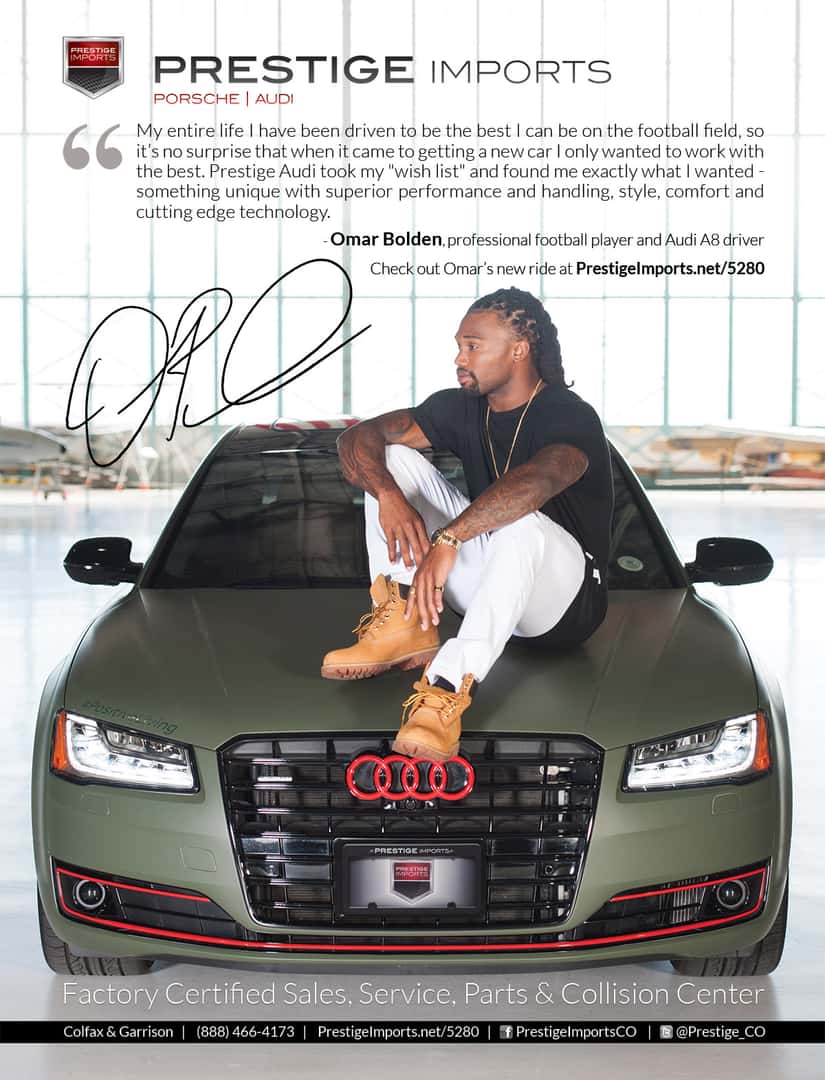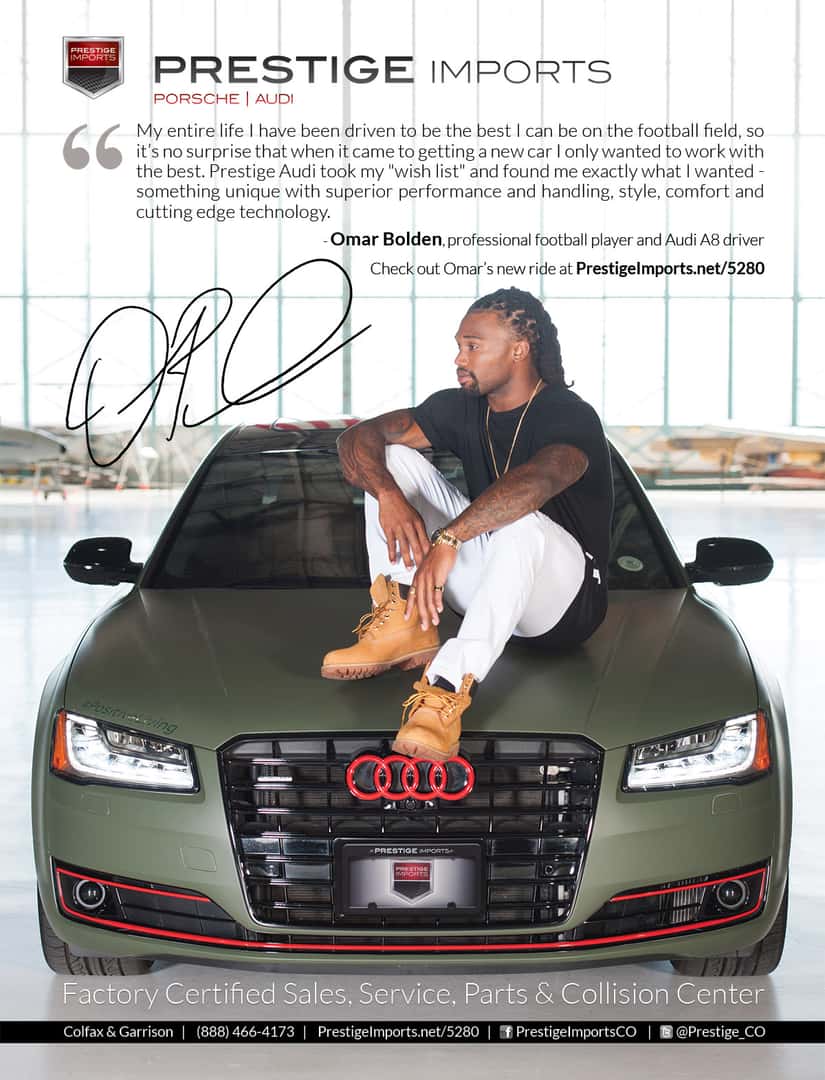 For the September issue of 5280 Magazine we put together an ad featuring Omar Bolden's Audi A8L. The vehicle is wrapped in matte olive green and sports bright red accents. The wrap also displays the two hashtags – #PositiveLiving #SeeBoldenRun – Prestige Imports' logos and PGI Wraps logos. These last elements of the wrap are very subtle. They are printed in olive green, just in a glossy, rather than matte, finish. For more images of the vehicle click here.
The final ad was the product of a lengthy collaboration between Prestige Imports, PGI Wraps, and Omar Bolden. In addition to the print ad, there is a social media campaign, radio airtime, and maybe even some in person events in the works.
The images for this ad, and for the social media campaign, came from a photo shoot at Wings Over the Rockies Air and Space Museum in Denver. Omar brought a few changes of wardrobe, and we shot photos over the course of a couple of hours. Nicolas Buckingham narrowed the take down to about 50 selects and Omar picked his favorites. From the list of favorites, we narrowed it down to the one shot that you see in the ad. A couple of interesting notes about the image:
The front license plate was added to the image in Photoshop. If you see Omar driving around Denver, you will notice that his car has a clean front grille.
There was a huge American flag hanging just out of the frame above Omar's head. You can see it reflected in the A8's roof just above Omar's right elbow
The final ad features our logo at the top and the services we offer, as well as our contact information, at the bottom. The final elements included Omar's "autograph" and a great quote from his radio spot:
My entire life I have been driven to be the best I can be on the football field, so it's no surprise that when it came to getting a new car I only wanted to work with the best. Prestige Audi took my "wish list" and found me exactly what I wanted – something unique with superior performance and handling, style, comfort and cutting edge technology.

– Omar Bolden, professional football player and Audi A8 driver
We hope you enjoyed learning the story behind this ad. We would love it if you would let us know if you spot it in 5280. Also, if you see Omar and his A8L around town, be sure to post a picture to Instagram and hashtag it #SeeBoldenRun.
***
Did you find this article helpful? Did we miss anything? If you have questions, or ideas for future articles, hit us up in the comments. We are here to help!

This article was written by Jason Noffsinger, Marketing Communications Specialist at Prestige Imports. Learn more about Jason on his Google+ page.