How Do I Change the Clock in My Audi? Step-by-step Directions
---
Editor's note: If you've ever asked the question, "How do I change the clock in my Audi", you've come to the right spot. This quick guide will step you through the process.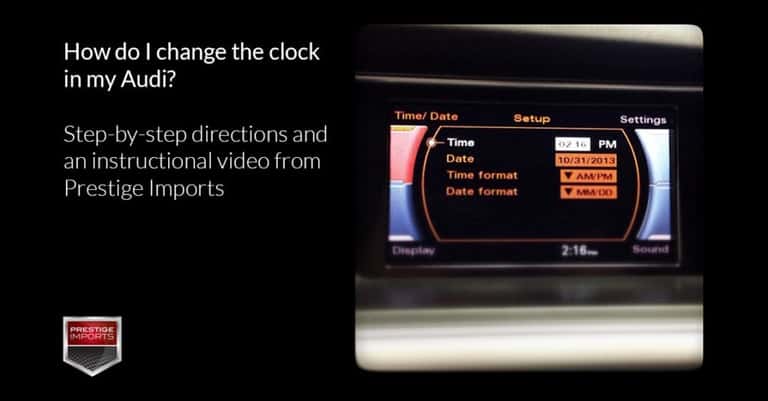 If you live in Colorado, re-setting the clock in your Audi is necessary at least a couple of times a year. Always remember to "Spring Ahead" and "Fall Back". When the time comes to make this change, it might also be a good time to think about preparing your car for the change of seasons. Do you have the proper tires? Need new wiper blades? Prestige Imports can help get your car ready to roll through the upcoming season.
To set or re-set the clock in your Audi, you will need to access the MMI screen and interface. To ensure your safety, please pull over, place the car in "Park" and engage the parking brake.
Eight simple steps to answer the question "How do I change the clock in my Audi?"
The process for adjusting the clock in an Audi is quick and easy:
Make sure that the ignition is on or is in accessory mode and the radio is turned on
Press the "SETUP" button in the lower right corner of your MMI interface
Press the upper left Control Button that corresponds to "Time/Date" in the upper left portion of the MMI screen. "Time" will then be highlighted on the screen
Press the MMI Control Knob to select a new hour and then change the hour by rotating the Control Knob. Once the appropriate hour has been selected, press the Control Knob again to set it
Now minutes are highlighted. Change the minutes by rotating the Control Knob. Once the appropriate time has been selected, press the Control Knob again to set it
To adjust the day (if this is not necessary skip to step seven) turn the Control Knob one click to the left and press the Control Knob to allow changes. You will start by adjusting the year, clicking the Control Knob, then adjusting the month, clicking the Control Knob again and finally adjusting the day and clicking the Control Knob.
When you are finished adjusting the time and date, press the "RETURN" button immediately below the Control Knob to exit
That's it, you are now ready for another six months of on-time motoring
If the MMI interface in your Audi doesn't match up with the process outlined here, be sure to contact Prestige Imports for help – (833) 825-5423

***
Did you find this article helpful? Did we miss anything? If you have questions or comments, just click the button below. We are here to help!

Questions or Comments >>