Denver's South Park Hill Neighborhood and the Audi Q5
---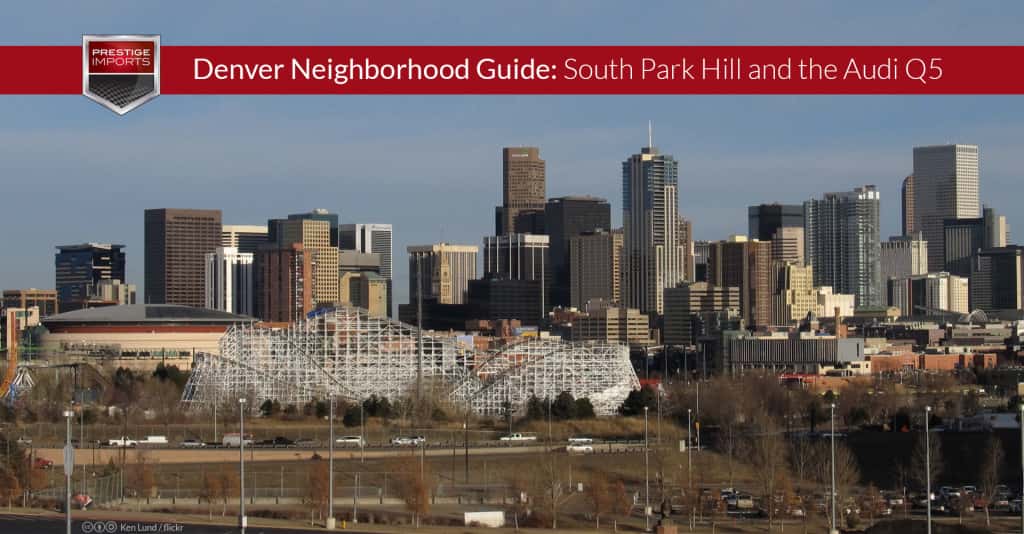 Denver's South Park Hill Neighborhood: a "Suburb in the City"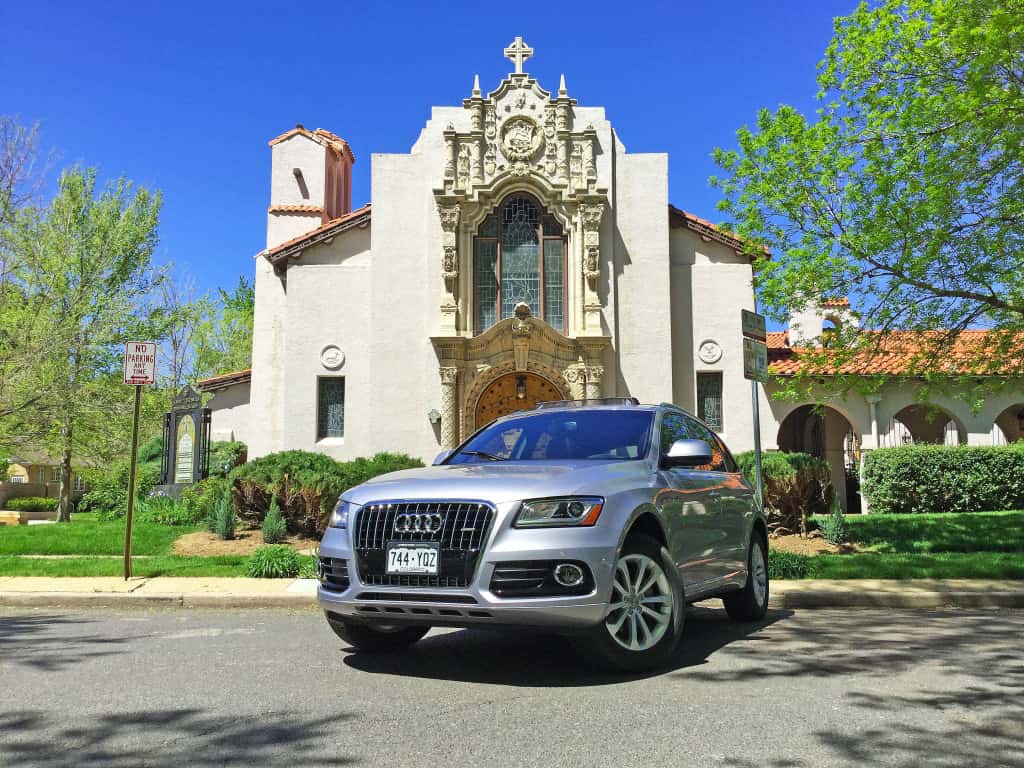 Immediately east of  Denver's City Park (i.e. Colorado Boulevard), you will find the South Park Hill neighborhood. The community's north and south boundaries are East 23rd and Colfax Avenues, respectively; Quebec Street marks its eastern limit.
According to the Denver Public Library, Baron Allois Gillaume Eugene A. von Winkler purchased 32 acres of pastureland east of the city in 1887; he then platted the area and named it Park Hill. Soon thereafter, the Prussian baron built a network of "dairies and brickyards" on his land, transforming it into a commercial property.
Not until Winkler's suicide in 1898, though, did developers convert Park Hill into a "residential neighborhood" populated by "tree-lined streets with attractive homes, offering a quiet life removed from the city." Once they overhauled the landscape, developers marketed the neighborhood as a "place of relaxation and leisure" that employed City Park as a "buffer" to reduce the "noise, hustle, and iniquity" of the downtown area.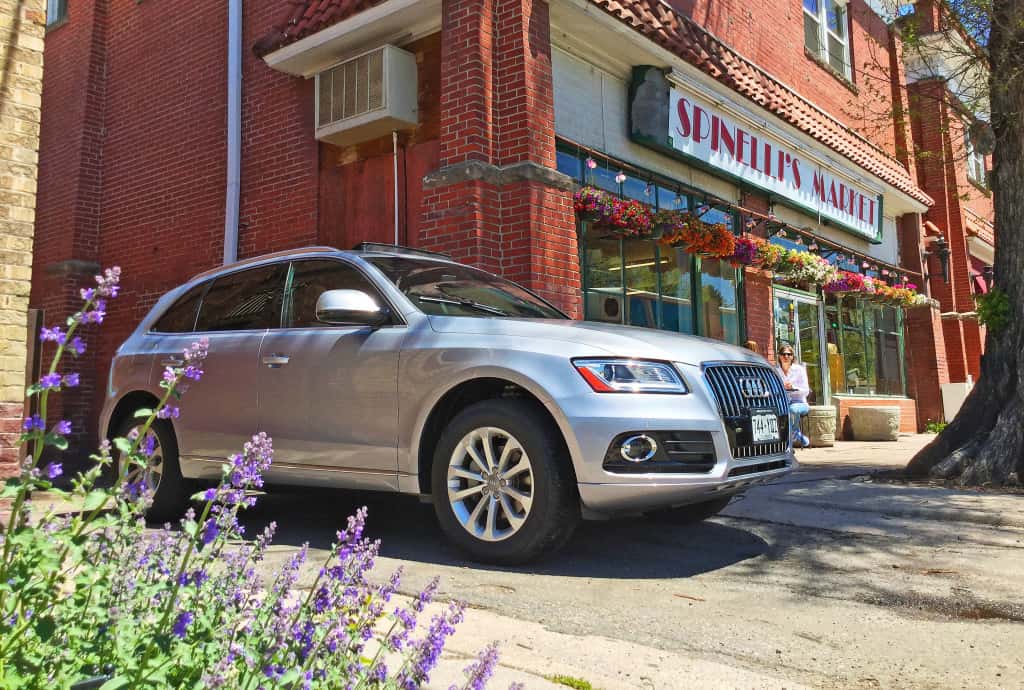 Nowadays, South Park Hill's aura remains rather similar to its developers' initial intent. In fact, Natasha Gardner of 5280 Magazine mentions that the neighborhood's "suburb-in-the-city vibe is still strong." Although, she's quick to point out that its "tiny commercial spots are hopping."
As Gardner continues with her assessment of South Park Hill, she notes that "you're likely to encounter a full spectrum of ages on an afternoon walk" when in the neighborhood. In addition to an eclectic mix of young, middle-aged, and senior families, a stroll through this community offers you views of "towering trees and ancient homes."
Among those "ancient" homes, you'll encounter a slew of historic landmarks as designated by the city of Denver. Whether it be St. Thomas Church or Park Hill Elementary School, architecture buffs and nostalgia trippers will enjoy the rich history that the community has to offer by way of its buildings.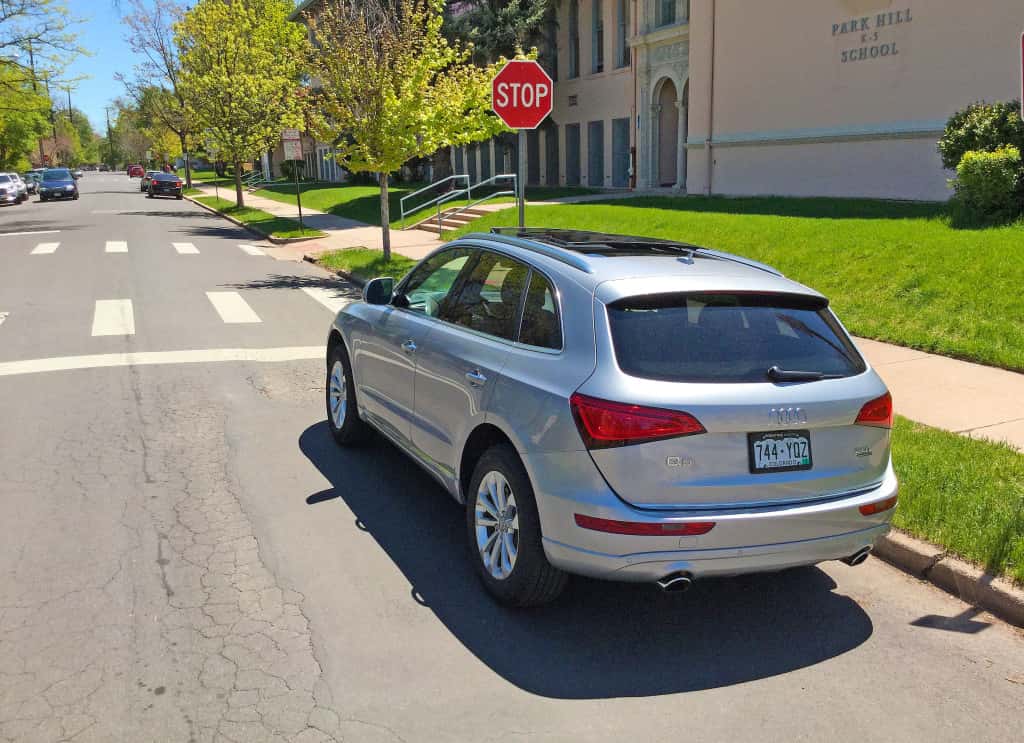 The fact that this neighborhood boarders City Park, boasts austere homes, but remains within a short commute or bike-ride to downtown has made it an ideal residence for many of Denver's prominent citizens. For example, former Mayor and current Governor John Hickenlooper calls South Park Hill home. Likewise, the 2004 NBA Finals MVP Chauncey Billups grew up in the Park Hill area.
But South Park Hill is more than just a few famous faces; it is also home to a large, active, and exciting cross-section of families. For instance, the Greater Park Hill Community, established in 1961, was formed in order to maintain a "racially and economically diverse community through the 1960s and 1970s" as a Denver Post article states. Today, the group meets every month to discuss neighborhood agendas and events, such as the Garden Walk, 4th of July Parade, Home Tours, and Street Fairs.
The Audi Q5 and Denver's South Park Hill Neighborhood: A Little Bit of Everything
If you're a family living in the South Park Hill neighborhood, then the Audi Q5 will, no doubt, match your lifestyle and automotive needs. Situated between the compact Q3 and the full-sized Q7, the Q5 is Audi's mid-sized, crossover SUV.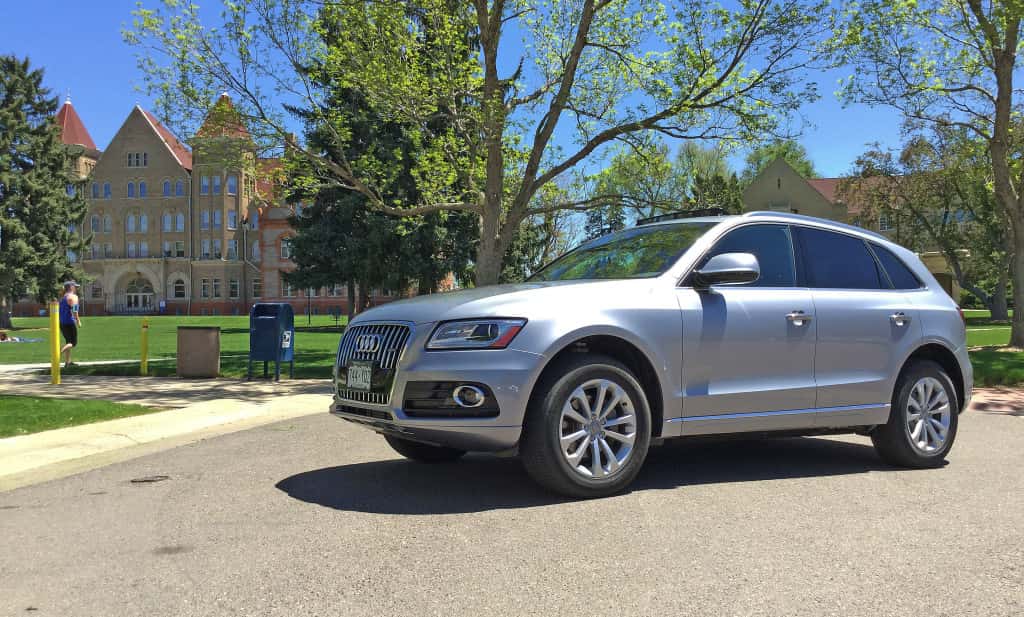 As a South Park Hill resident, you probably chose to live in the neighborhood in order to satisfy your desire for suburban comforts without sacrificing the excitement of urban living. To this extent, the neighborhood offers the best of both worlds, so to speak.
In a similar fashion, Kelley Blue Book gushes over the fact that the Audi Q5 is "a commendable jack-of-all-trades." Its ability to do virtually everything, then, helps make the Audi Q5 a "perennial best-seller in its segment" and "delivers what every compact luxury crossover SUV shopper seeks."
And what does this "everything" entail?
Well, for starters, the Audi Q5 is extremely safe. The Insurance Institute for Highway Safety subjected the vehicle to its small overlap crash test, "which is tricky for most SUVs" to pass. The Q5 performed well in that test, receiving a "Good" rating; it also earned a "Top Saftey Pick +" commendation.
Moreover, the mid-sized crossover comes equipped with stability control, traction control, anti-lock brakes, brake assist, tire pressure monitoring, and the full array of air bags as standard features. Whether you're shuttling your brood to school, heading up to the mountains for a family getaway, or simply commuting to work, these safety features and awards will provide you with peace of mind.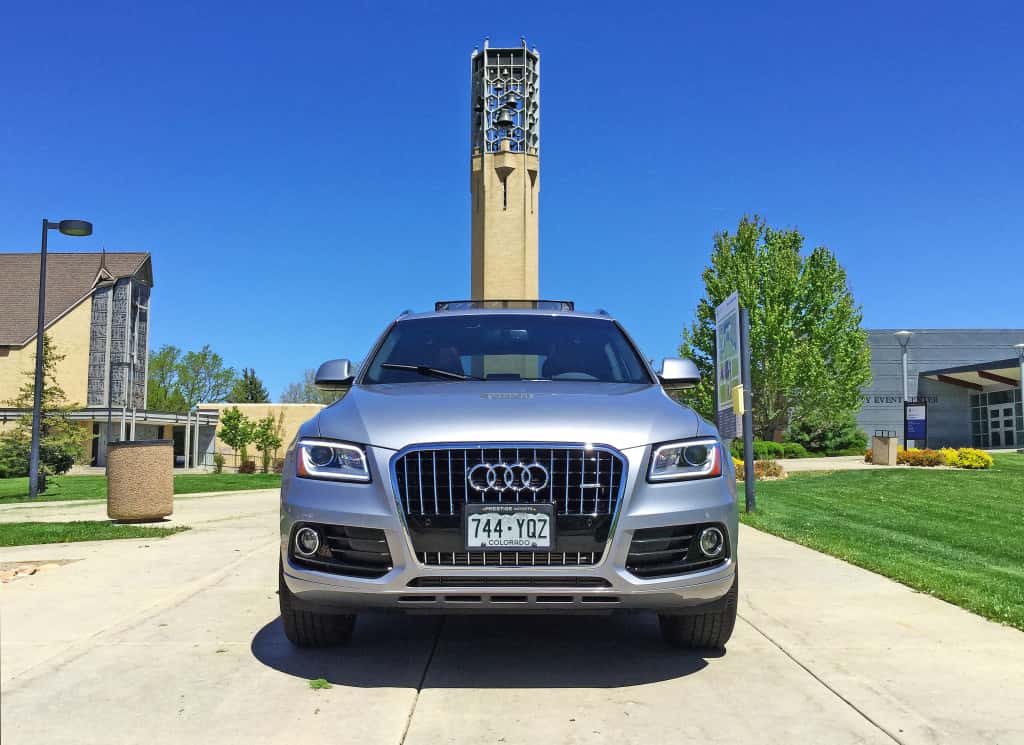 While safety is important, it's not the only reason you purchase a vehicle. And, let's be honest, regardless of how well a car performs in a crash test, you want it to be fun and comfortable to drive. With the Audi Q5, luckily, you won't face that either-or proposition. Yes, this crossover offers you both.
Edmunds raves about the fact that "quick acceleration, refined driving character, [and] sporty handling." The Car Connection agrees, noting that it boasts "good handling and acceleration coupled with very good gas mileage."
Even at the entry-level engine, you'll receive a turbocharged, 2.0-liter four-cylinder engine that produces 220 horsepower and 258 pound-feet of torque with EPA-estimated fuel economy is 23 mph combined (20 city/28 highway).
If you're looking for a bit more boost, you can choose from the supercharged, 3.0-liter V6, which produces 272 horsepower and 295 pound-feet of torque . This engine option includes an automatic stop-start system that saves fuel by shutting off the engine when you come to a halt, allowing for an EPA-estimated fuel economy is 21 mpg combined (18 city/26 highway). Certainly, these numbers ensure that your driving experience in South Park Hill, downtown, or on I-70 will be both effective, efficient, and FUN.
But the Audi Q5 also delivers "more ground clearance and a higher driving position than a comparable sedan or wagon." To this extent, you can actually take the vehicle off-road for camping, hiking, or back-country skiing excursion, whereas most luxury crossovers wouldn't fair as well under those unpaved conditions.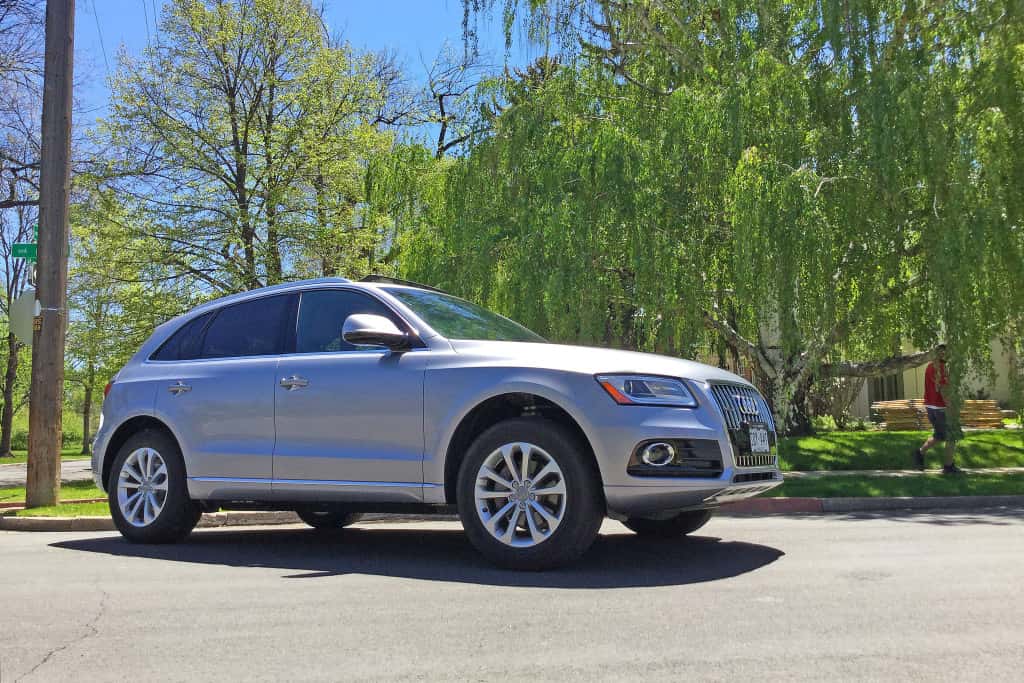 Of course, an Audi wouldn't be an Audi if it didn't sport a luxurious cabin. The Q5, as one would expect, does not disappoint. Edmunds claims that the crossover offers a "top-notch interior craftsmanship," while Kelley Blue Book speaks of its "healthy dose of luxury appointments" and "timeless style." The Car Connection goes one step further, claiming that the Q5's "cockpit sets a high watermark for simplicity and for fit and finish, particularly with the optional layered-oak trim."
Those rave reviews stem from the fact that the Audi Q5's base model comes standard with 18-inch wheels (19s are optional), xenon headlights, LED running lights and taillights, automatic wipers, heated exterior mirrors, a panoramic sunroof, aluminum roof rails with crossbars, a power liftgate, eight-way power front seats (with four-way power lumbar for the driver and optional heating), a tilt-and-telescoping steering wheel, leather upholstery, tri-zone climate control, a sliding and reclining 40/20/40-split folding rear seat, Bluetooth connectivity, the Multi Media Interface (MMI) with dash-mounted controls and a 10-speaker sound system with a CD player, an auxiliary audio jack, satellite radio and Audi's digital music interface.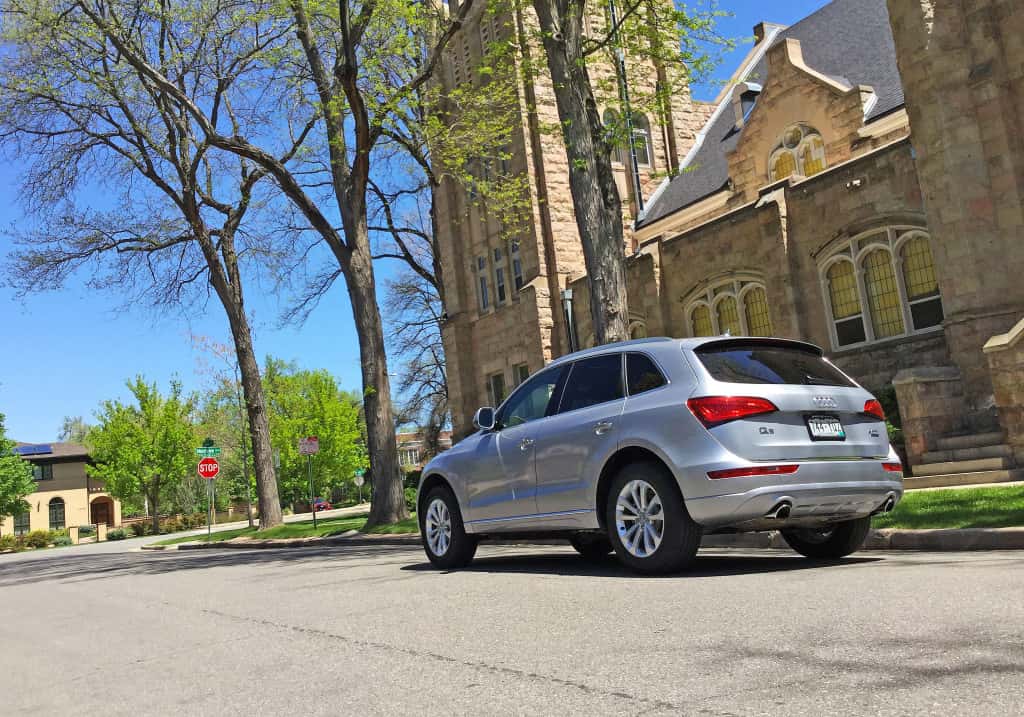 Moreover, you can upgrade to the following features: aluminum door sills and trunk-edge trim, auto-dimming and power-folding exterior mirrors, keyless ignition and entry, heated front seats, driver memory settings, auto-dimming rearview mirror, adaptive headlights, heated and cooled cupholder, rear door sunshades, and a technology package that includes blind-spot monitoring, a rearview camera, front and rear parking sensors, a color trip computer, a navigation system with voice controls, Audi Connect online services with mobile WiFi capability, an upgraded MMI system with console-mounted controls, and a 14-speaker Bang & Olufsen sound system.
Oh, and did I mention that the Audi Q5 just looks freaking cool? I didn't? Well, my friend, the Q5 is a super slick whip. I mean, just look at that ride; it's gorgeous.
Prestige Imports: The local Audi dealer for Denver's South Park Hill residents
If you'd like to check out an Audi Q5, visit Prestige Imports. We're located at 9201 West Colfax Avenue between Kipling and Wadsworth. You can also call one of our Audi Brand Specialists at (833) 825-5423 to schedule an appointment for a test drive.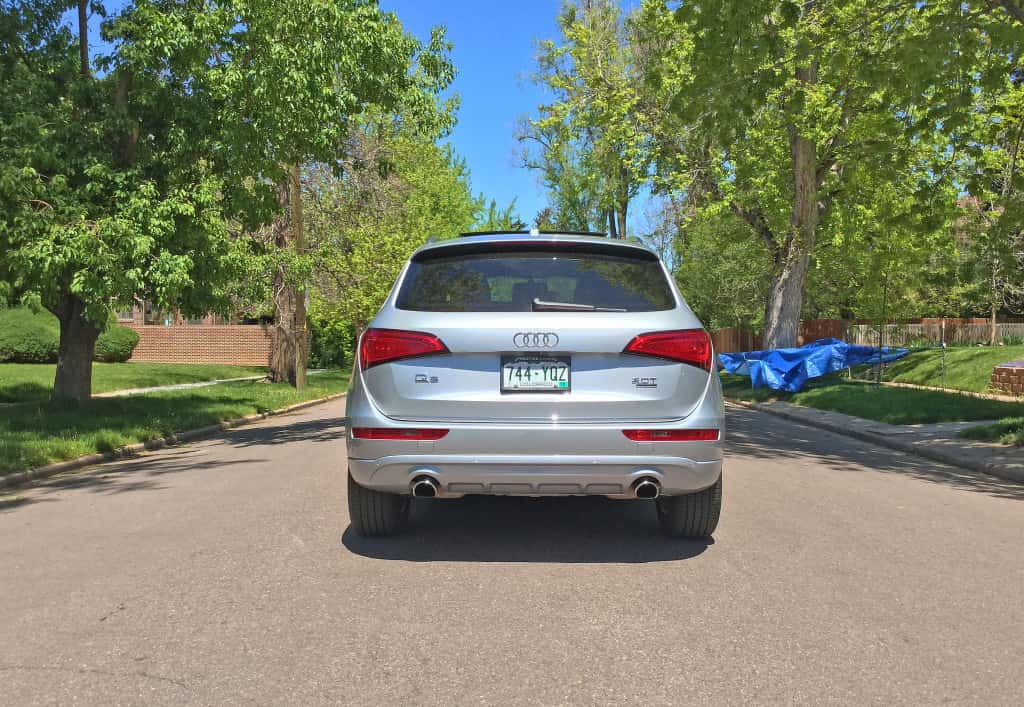 Finally, you can visit our website in order to see what new and certified pre-owned Audi Q5 models that we have in-stock.
Once you buy or lease an Audi Q5, check out some of these wonderful local establishments in the South Park Hill neighborhood:
Restaurants: Tables, Oblio's Pizzeria, The Cherry Tomato, Nuggs, Queen of Sheba
Bars & Breweries: Neighbors, Desmond, Fiction Beer Company, The Abbey Tavern, The Elm
Boutique & Specialty Stores: Cake Crumbs, Spinelli's Market, Moss Pink Flora, Art Garage, Mod Livin
Coffee Shops: White Tale Coffee, Park Hill Hub, Bellwhether
Banner image by Ken Lund, courtesy of Creative Commons
***
Did you find this article helpful? Did we miss anything? If you have questions or comments, just click the button below. We are here to help!

Questions or Comments >>