Audi h-tron quattro concept: Hydrogen-powered performance
---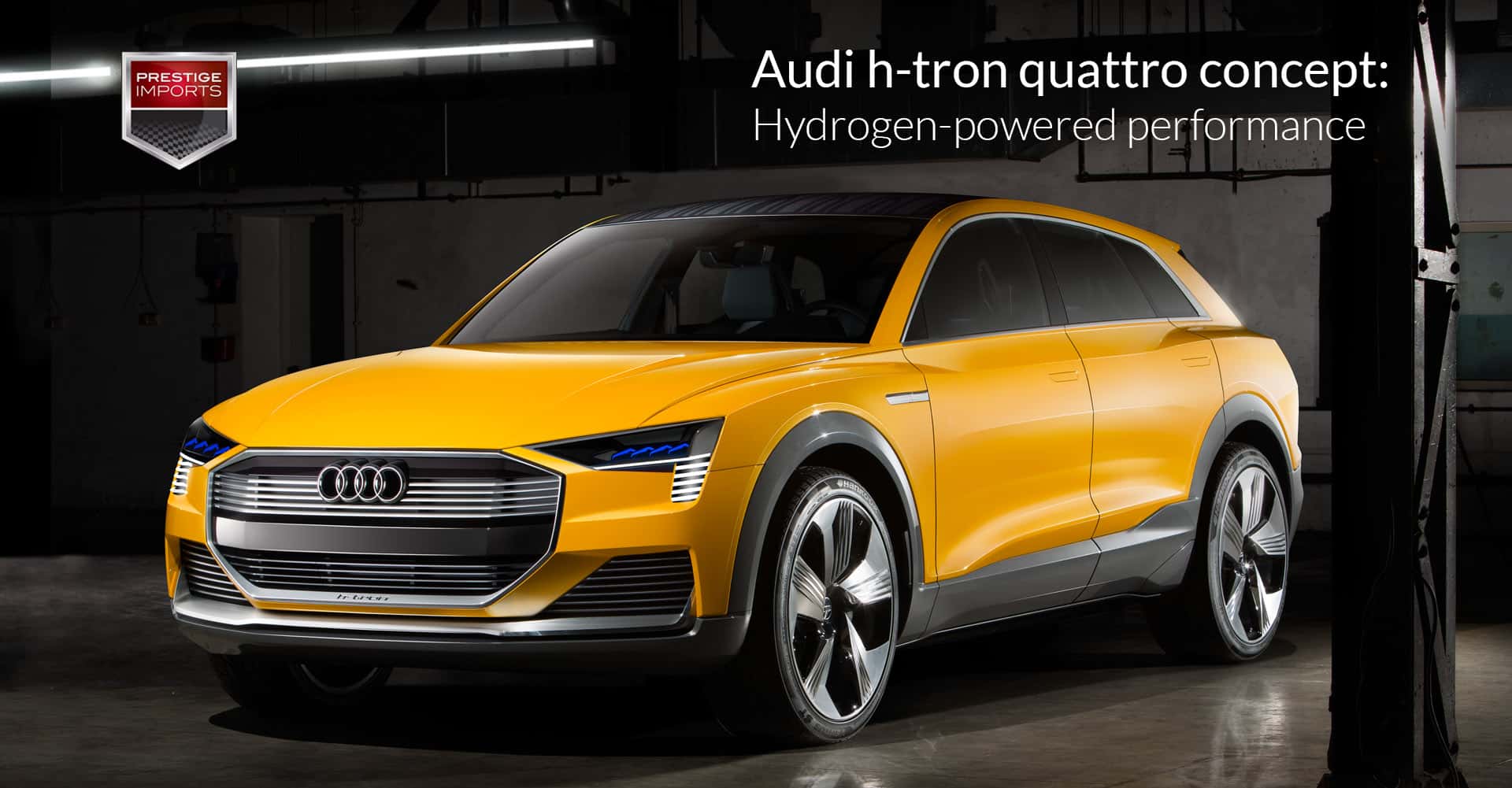 Audi h-tron quattro concept: Hydrogen-powered performance
Car manufacturers continue to improve their brands; and the search for reliable, alternative fuel sources that reduce emissions is part of that process. To wit, most manufacturers have focused on the development of electrically-powered vehicles.
But in an effort to separate themselves from their competitors, Audi has diversified its forays into this realm. The German automaker, which already offers a wide array of options in their E-Tron line, has set its sights on producing the first viable hydrogen-powered vehicle.
Sure, you're probably thinking that a hydrogen-powered vehicle is either a sci-fi fantasy or an explosive deathbomb waiting to rain hellfire down upon unsuspecting commuters. Neither of these positions, though, accurately encompass the technological advances that Audi engineers and designers recently have developed.
In fact, at this year's North American International Auto Show in Detroit, MI, Audi unveiled its h-tron concept vehicle. Below, you can watch a video clip of its first public appearance, followed by a transcript of Prof. Rupert Stadler's (Chairman of the Board of Management of Audi AG) address:
Ladies and gentlemen, this is the Audi h-tron quattro concept. The "H" stands for hydrogen: the chemical powerhouse of this car. "quattro" stands for a vital part of our brand's DNA: performance, sportiness, emotion. The Audi h-tron quattro concept is our latest benchmark innovation in drivetrain technology.

Audi has more than ten years of fuel cell expertise. We thought Detroit 2016 was the perfect place for the Audi h-tron quattro concept and its powerful fifth-generation fuel cell, for up to 110 kW performance. Its lithium-ion battery is delivering a boost of up to 100 kW. The combined power of fuel cell and battery is driving two electro motors, one at the front and one at the rear axle. This makes the car an electrified quattro with excellent driving dynamics. The Audi h-tron quattro concept is as sporty as efficient. Just imagine: Only four minutes to refill the tanks – like a gasoline car.

Once you look at the interactive model of the interior here at the Audi booth, you will experience our second innovation focus next to efficiency: Digitization and connectivity. The Audi h-tron quattro concept offers a spacious interior with latest Audi virtual cockpit including curved OLED displays, LTE connectivity for fast internet access, OLED displays and tablets for rear-seat entertainment and a smart "butler" software to organize the luggage compartment.

Forward-looking drivetrain and high-end human-machine interface – that's the Audi h-tron quattro concept or, as we call it "Vorsprung durch Technik". This car is a great testimony of the unique premium experience you may expect from every Audi model.
True, the h-tron still holds "concept" status; but the fact that Audi presented the public with a version of the car at a major, international auto show signals the imminent arrival of a production-ready vehicle.
For a closer look at the h-tron, check out the below hype video. The first 1:20 of the clip offers digitally-rendered views of the car, which includes transparent drivetrain views. After the 1:20 mark, there's proper footage of the concept vehicle's exterior and interior:
In his address, Stadler mentions the inclusion of OLED displays in the h-tron, and the interior shots show a few glimpses of them. OLED, or organic light-emitting diode, displays are fast becoming the new benchmark for screen technology, providing superior performance and resolution when compared to standard LCD options. Moreover, Audi has begun the transition from its MMI system to its new HMI system. You can check out Kelley Blue Book's video of the prototype at this year's Consumer Electronics Show in Las Vegas, NV:
As Audi mentions in its official press release, the Virtual Cockpit will expand into the Virtual Dashboard and boast an embarrassment of riches, as the sports' announcers like to say. To this end, the interior of the h-tron will match the technological superiority of its hydrogen-powered drivetrain.
If you'd like to find out more about the Audi h-tron quattro concept or any other Audi vehicles, stop by Prestige Imports at 9201 West Colfax Avenue, which is located between Wadsworth and Kipling. You can also call (833) 825-5423 to schedule and appointment with someone from our Sales Department.