2018 Audi TT RS: Drive Debut and Review Round-Up
---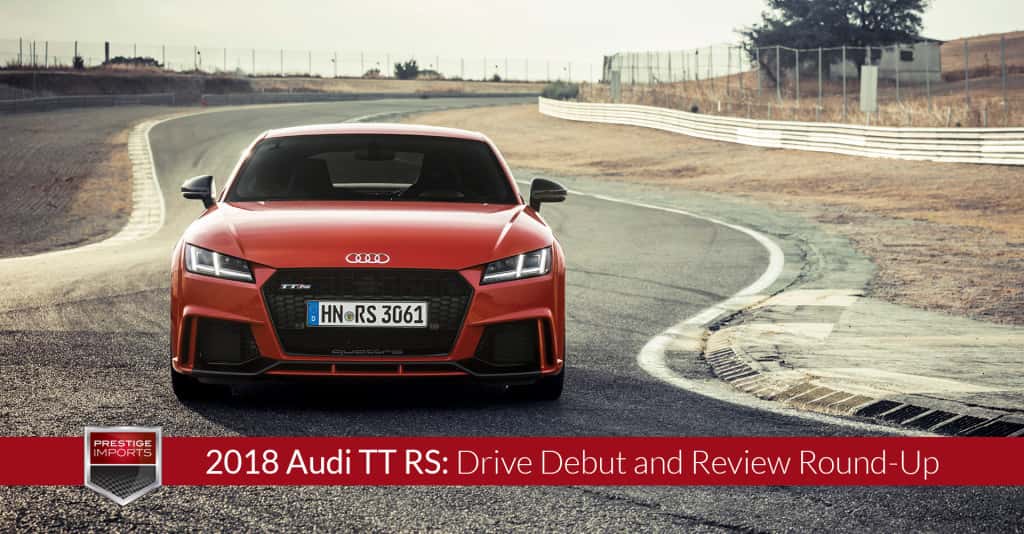 2018 Audi TT RS: Darling of the Online Press
The fact that Audi already has begun rolling out 2018 models for journalists to road test in late-2016 might seem inexplicable to most people; but that, indeed, is what happened recently at Circuito del Jarama outside of Madrid. When the German auto manufacturer debuted the Audi TT RS in Spain a couple of weeks ago, reporters unanimously agreed that, by all accounts, Inglostadt produced a champion vehicle.
Over at Jalopnik, Robb Holland wrote that "the TT RS definitely has a shot at going head to head with [the BMW M2, the Porsche Cayman S, and the Mustang GT350], and maybe taking a few scalps in the process" when on the track. Moreover, Holland notes that "with Audi's proven quattro system, all of its performance will be far more accessible to the average driver."
Csaba Csere of Car & Driver is similarly effusive in his laudatory response, arguing that the sport coupe "presents an appealing package that defies easy comparison" with its sleek looks and dynamic performance. Csere continues, claiming that he "can't think of another car that can match its below-100-mph acceleration at anything close to that price." As with Holland before him, Csere compares the 2018 Audi TT RS to the Porsche 718 Cayman S and the BMW M2, as well as a Chevrolet Corvette.
Finally, Andy Pilgrim of Automobile Magazine praised the new car's looks, noting that it's "sporty and has a solid, business stance" with a "sharp" design. After driving the 2018 Audi TT RS, Pilgrim claims that he "could name a bunch of cars in the $60,000 to $80,000 range that might compare to the RS"; but the sub-three second 0-to-60 time "is not common at this price point, and it could well be an outlier."
2018 Audi TT RS: A Video Round-Up
If you'd like to check out a video review of the new 2018 Audi TT RS, watch the below clip. You'll witness the car in action, as well as hear its full-bodied exhaust sound (and, less fortunately, the reviewer's whinny intonations).
If you'd like to watch a review of the roadster (i.e. convertible) version of the model, check out the below video by Mr. JWW:
With all the hoopla surrounding the release of the new 2018 Audi TT RS, the German manufacturer allowed cameras into their production facility so as to provide a glimpse of how they construct these beauties. I've posted a few production videos before, and they never cease to amaze me. For starters, the interaction between man and machine fascinates me with its theoretical implications (re: cyborg technologies, etc). In addition to this fact, though, I find viewing the processes to be incredibly hypnotic.
Prestige Imports: The Denver area's dealership for the Audi TT RS
If you're interested in finding out more about the 2018 Audi TT RS, call Prestige Imports at (833) 825-5423 to speak with one of our Audi Brand Specialists. Conversely, if you'd like to test drive a 2017 Audi TT, visit our dealership. We're located at 9201 West Colfax Avenue between Wadsworth and Kipling.You can also check out our Audi TT inventory online.
***
Did you find this article helpful? Did we miss anything? If you have questions or comments, just click the button below. We are here to help!

Questions or Comments >>