2017 Porsche 911 Carrera Video Review and Analysis
---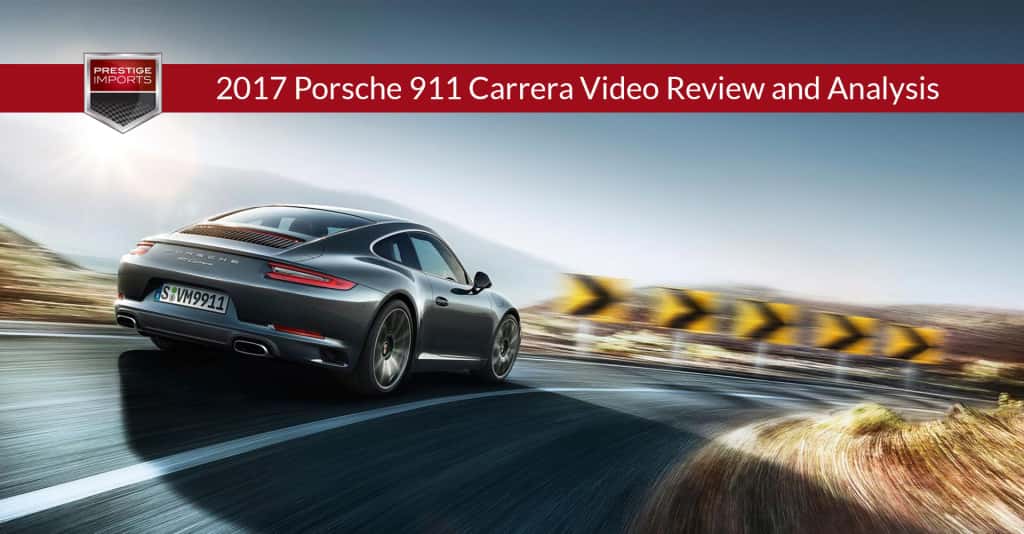 Ignition Makes Videos, Super Terrific Videos
Recently, I wrote a post that compared two Porsche 911R videos, discussing their relative merits. In addition to highlighting the German auto-manufacturer's newest, limited-edition model, I wanted to demonstrate "the power of a well-crafted and knowledgeable" production versus a less-effective automotive review.
The exemplar of excellence in my comparison was the Motor Trend production Ignition, hosted by Jason Cammisa. Searching through the digital annals of YouTube reveal that the 911R Ignition video was not the only piece of automotive industry brilliance that Motor Trend and Cammisa have churned out lately.
2017 Porsche 911 Carrera: The Ignition Video
To wit, earlier this summer Ignition featured the 2017 Porsche 911 Carrera. And, as one could assume from my previous comments on their 911R video, their 911 Carrera clip also receives a top-notch rating for production-value, vehicle knowledge, and driving chops.
Here's the video in it's entirety:
There's a lot to like in the above video. What follows, then, is a list of what I find to be most impressive, with each point designated by the moment's time-signature during the video.
2017 Porsche 911 Carrera: Video Break Down
History Lesson (00:00): This episode of Ignition opens with a voice-over by Cammisa. He says: "Porsche has a problem that's been brewing for forty years. The original, forced-induction 911 was so outrageously powerful that it's name became an icon. That name still refers to just one car." But, as he goes on to note: "What was once an ultra-rare, ultra-high-tech piece of equipment can now be found everywhere." Cammisa, then, continues his overview of the turbo-charged engine's ubiquity and its relationship to the Porsche brand. This introduction serves as both a demonstration of historical knowledge and a contextualization for the hottest debate surrounding the 2017 Porsche 911 Carrera: its move from natural-aspiration to a twin-turbo engine.
Model Year Variations (1:26): Before discussing the effect that the addition of turbo-charging has on the new Carrera, viewers receive a rapid, visual overview of all the exterior differences between the 2016 and the 2017 models. It a quick, humorous, but instructive guide to how the two model years looks have changed. Later in the video, Cammisa also compares the wheel-base, performance, and overall handling of the 991-series versus the 997-series, demonstrating his comprehensive knowledge of the Porsche brand.
Engineering Lesson (4:30): After a minute or so of addressing the new turbo-charged engine in the 2017 Porsche 911 Carrera, Cammisa says: "If somebody tells you that such-and-such turbo-charged car doesn't have any lag, ignore everything they've said before and everything they're going to say after because they don't understand the fundamentals of how an engine works." Thankfully, he does know how an engine works and, shortly thereafter, offers a rather clear (and lengthy) explanation of the mechanics of turbo-charging.
Professional Cornering (8:07): Randy Pobst is a professional race car driver. Having won a boatload of GT-class races over the years, he's what you would call a "living legend." Cammisa and Pobst hit Thunderhill Raceway in Willows, California in order to push the 2017 Porsche 911 Carrera to its limits and further explore how the turbo-charged engine alters the driving experience. While their lap test offers even more analysis regarding the engine, the best part of this segment is simply watching a pro tear up a course in hi-def. I recommend checking out how Pobst corners at the following marks: 8:40, 8:54 (this one is the beauty), 10:36 (okay, this isn't a corner, but he gets air), and 12:15.
These moments, of course, are in addition to the hallmarks of a well-made car review video that I mentioned in my previous post on the Porsche 911R.
Prestige Imports: Denver's Dealership for the 2017 Porsche 911 Carrera
If you're looking to purchase or lease a 2017 Porsche 911 Carrera, there's no better place to test drive this German performance vehicle than at Prestige Imports. As the Denver area's oldest Porsche and Audi dealership, we have the experience and knowledge to help you find the perfect car for you.
We're located at 9201 West Colfax Avenue between Wadsworth and Kipling. You can also call (888) 446-4994 to schedule an appointment with one of our Porsche Brand Ambassadors. In the meantime, check out our online inventory of both new and pre-owned Porsche 911 models.
***
Did you find this article helpful? Did we miss anything? If you have questions or comments, just click the button below. We are here to help!

Questions or Comments >>