Porsche Stuff on the Internet: A Video Round-Up
---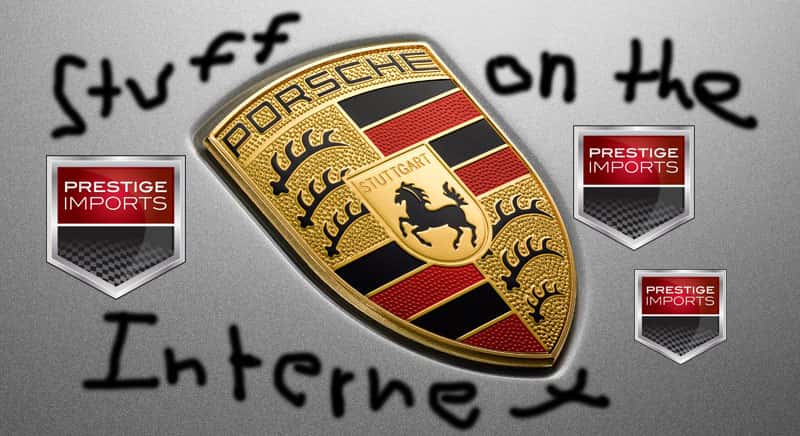 The Internet is Filled with Stuff
Every week, content-producers pump out article after article, meme after meme, and video after video in endless succession. The perpetual landslide of content competes for that fraction of a second from an audience in hope of sending their content viral so as to achieve fame, notoriety, acclaim, money, or whatever. As a content-producer myself, I speak from experience.
To this end, content-producers constantly augment the annals of online archives in hope of creating The Next Big Thing, usually satisfied if it's at least Something OK, and breath a sigh of relief if it's not a Yawn Inducing Snoozer.
The automotive industry, as a niche market, is no different than the online universe in its entirety: it's populated with loads of mediocre to horrible material, occasionally peppered with content that's compelling or, dare I say, great.
New and Cool Porsche Stuff on the Internet
In order to separate the wheat from the chaff, as the old adage states, I scoured Porsche videos uploaded to YouTube last week and selected some of the more compelling features. For those interested in the Porsche brand, you will not be disappointed.
1) Carfection: "Porsche: The Front Engine Coupes that Saved the 911"
I'm opening this segment with the Carfection overview of Porsche's front-engine coupes from the 80s because, well, this video is amazing. For Porsche enthusiasts, the piece provides a comprehensive exposition of each model: the 924, 944, 968, and 928. What makes this clip great is the fact that it's informative/intelligent, well-produced, and offers detailed and extended images of each vehicle. And, for those of us who dream about purchasing a vintage-80s Porsche but can't afford a now-ridiculously-priced 911 from that era, it stokes the imaginative (but highly attainable) fires.
2) Auto Express: "McLaren 570S vs Audi R8 V10 Plus vs Porsche 911 Turbo S"
Any time a well-produced supercar video pops up online, it's definitely worth a couple minutes of your time. Getting a glimpse of one of these dynamic beauties can jazz-up even the most ardent haters of the automotive world. But featuring three of the top supercars priced under £150K (I know, that's still a boatload of scratch and very British) for a head-to-head-to-head competition at Llandow is just insane. Not only does the video feature the Porsche 911 Turbo S, but one of the other cars is the Audi R8 V10 Plus. All three vehicles are gorgeous, all three vehicles are fast; and the jolly fat man host, Steve Sutcliffe, is absolutely tickled to be ripping around the track in each of them.
3) eGarage: "1967 Porsche 911 S: Magnus Walker"
Magnus Walker stumbled upon internet fame around 2013 with the premier of Urban Outlaw, a documentary that's equal parts self-promotion, Porsche enthusiasm, and DIY-fashion guide. Since then, he's been promoting vintage, air-cooled Porsche 911s and his re-imaginations of them. While some might find his schtick irksome, there's no denying that he's capable of overhauling an old, beat up 911 and transforming it into a gorgeous whip with a unique and stylish flourish. As the title suggests, this video profiles his 1967 Porsche 911 S. Walker provides the back story on both the model and his particular car; and there's some amazing footage of him driving the vehicle through mountain twisties just outside Los Angeles as he ascends to Mount Wilson Observatory.
4) Autogefühl: "718 Cayman Full Review"
This final video is not, perhaps, for everyone. Clocking in at just under thirty-nine minutes, it's a sizable investment on your time. It is, though, the most comprehensive review I have watched of the new 2017 718 Cayman; and, trust me, I've watch plenty of online reviews for this model. If you're in the market for a compact, sports coupe, you'll definitely want to check out this video in its entirety (in addition to watching the videos I embedded in my previous 718 Cayman S post). Literally, any question or concern you might have with this car is attended to in the review. The only caveat? You need to be comfortable with eastern European accents.
Prestige Imports: Denver's Home for Cool Porsche Stuff IRL
If you want to cozy up to a Porsche vehicle IRL and, perhaps, test drive it, visit Prestige Imports. We located at 9201 West Colfax Avenue between Wadsworth and Kipling. Conversely, you can set an appointment with one of our Porsche Brand Ambassadors by calling (833) 825-5423. In preparation for your visit, check out our online inventory to see what 718s, 911s, Panameras, Macans, and Cayennes we have in-stock.
***
Did you find this article helpful? Did we miss anything? If you have questions or comments, just click the button below. We are here to help!

Questions or Comments >>