Porsche Crest, Audi Rings, and Prestige Imports Badge: A Rich History
---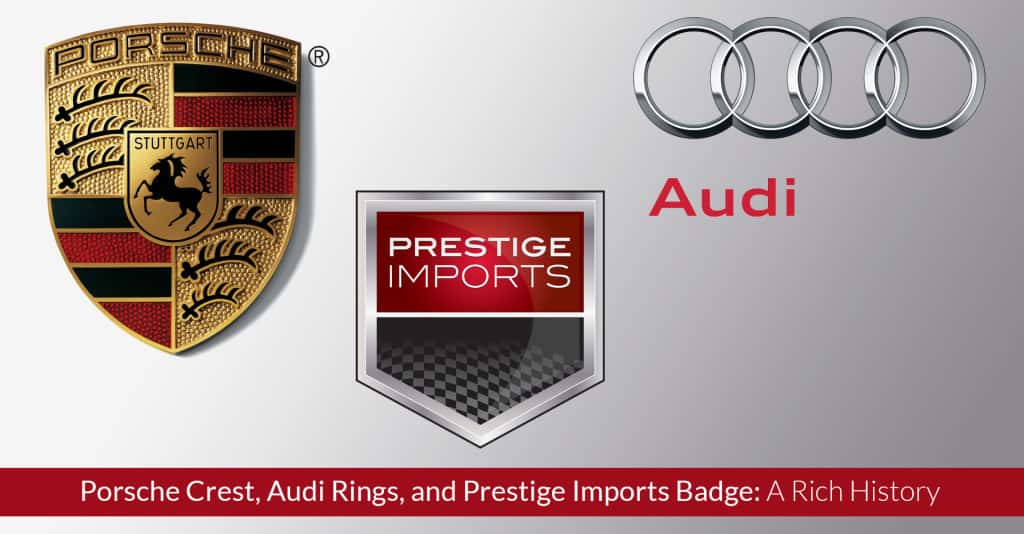 What's in a Badge?
Badge. Crest. Logo. While the emblems on the hood, rear, or steering wheel of a vehicle may be spatially small, they symbolize something much larger: international, automotive corporations and the traditions upon which business magnates founded them.
If you're reading this article, then you're most certainly aware of the Porsche and Audi emblems. While these badges have attained a particular, visual ubiquity in contemporary culture, their origins might be less familiar, even with enthusiasts of the brands.
The Porsche Crest and Regional Affiliations
The inspiration for Porsche's crest originates in the complex and often tumultuous history of 20th-century Germany. Stuttcars does a wonderful job of delineating the shifting German landscape during the 1900s, which altered constantly due to the ramifications of both WWI and WWII. But, as the below image demonstrates, a clear visual relationship can be charted between Wütternberg's crest and the Porsche logo:

Indeed, when Ferry Porsche and Max Hoffman developed the German automaker's badge in 1952, they paid an evident tribute to their regional affiliations. While the Porsche crest has undergone a series of modifications through the years, all of them have been relatively minor: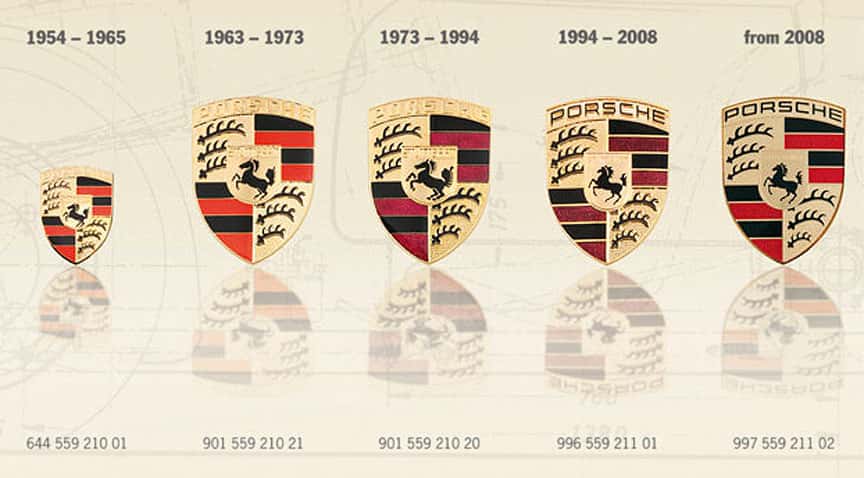 The modifications, though, have never altered the essential elements of the Porsche crest, enabling the brand to remain consistent and, thus, identifiable through the years. And, as the video below shows, each individual badge is handmade:
The Audi Rings and Corporate History
While the Porsche crest acts as a visual symbol that represents national and regional origins, the four interlocked rings of Audi serve as a reminder of the company's business origins. Audi World offers a more comprehensive historical time line, but each of the four rings in the Audi badge stand for one of the four founding companies that joined to form Audi AG: Horch, Audi, Wanderer, and DKW.

Originally separate organizations, the four companies merged under the single, umbrella moniker of Auto Union AG in 1932, at which point marketers aggregated the symbols:

In 1945, the company became Auto Union GmbH; and in 1965, company brass reinstated the Audi name for its four-stroke engines. The entire company changed its name to Audi in 1969. While all these mergers, names changes, and headquarter shifts were occurring, one thing stayed relatively constant. Yes, the rings. Below you will find the 1949, 1985, and 2009 versions of the Audi rings:

Similar to the Porsche crest, Audi's rings have remained relatively consistent since it's first merger. Such continuity lends itself to brand identification and, by extension, customer loyalty and trust.
The Prestige Imports Badge: A Brief and Incomplete History
Audi has existed for over 100 years; Ferry formed Porsche approximately 85 years ago. Both of these companies established their brand and sustained themselves through ingenuity, a superior product, as well as a savvy marketing plan with continuity.
While Prestige Imports has not been in the automotive industry as long as these German titans, we are the Rocky Mountain region's oldest Porsche and Audi dealership. To wit, we've served the Denver, Lakewood, and Front Ranges areas for over 32 years.
It was not until 2011, though, that Prestige Imports adopted our current logo: a five-sided badge. Encased in a silver border, our badge has a black bottom, and red top. The black bottom fades into a checkered race flag, while the red top bears our name in white type.

But before the sleek and more traditionally automotive emblem served as Prestige Imports logo, there was this:

My first thought when looking at this logo is "Surf Shop"; but, hey, that's just me. While the old logo, no doubt, served its purpose for its time, the current logo embodies luxury and performance vehicle culture much more directly through a similar design concept. In this sense, the Prestige Imports badge acts as a reminder that the dealership contains deep, regional ties in addition to being a purveyor of the world's finest automobiles.
To find out more about the Porsche and Audi brands, visit Prestige Imports. An Audi Brand Specialist or a Porsche Brand Ambassador can help you find the luxury or performance vehicle that best fits your needs. While you are here, you'll learn firsthand why Prestige Imports has managed to remain a fixture in the Denver and Front Range areas for over 32 years. You can also call (833) 825-5423 to schedule an appointment. In the meantime, check out our full, online inventory.
***
Did you find this article helpful? Did we miss anything? If you have questions or comments, just click the button below. We are here to help!

Questions or Comments >>