Is Audi Care a good deal? The Audi maintenance plan explained
---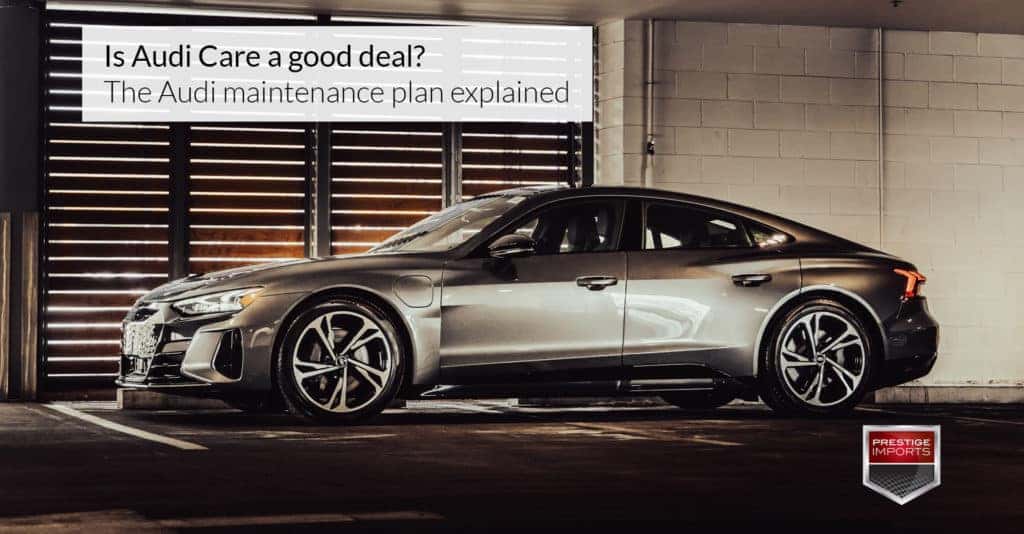 When purchasing a new Audi, you will inevitably end up in the office of the finance manager. One of the many options you will be presented is Audi Care, and while many of these optional items can be a great benefit to you and your new vehicle, few will have as obvious an upside as Audi Care.
So, is Audi Care a good deal? Absolutely.
In fact, we were hard-pressed to think of a situation where you will not come out ahead when purchasing Audi Care. Read on for our complete analysis …
Audi Care
There are many benefits to purchasing the Audi Care Maintenance Plan. Audi recommends servicing your vehicle every year or 10,000 miles, whichever comes first. With maintenance visits costing anywhere from a couple of hundred dollars to over six hundred, The Audi Care Maintenance Plan can save you a lot of money. Our finance department can advise you on the exact savings for the year and model of your vehicle, but on average you will save about 50% by pre-purchasing the Audi Care Plan.
If your vehicle is leased, you are obligated to have your vehicle serviced at the manufacturer's recommended service intervals. Since you are required to have the maintenance performed, it's an absolute no-brainer to take advantage of the savings!
If your vehicle is financed, or you purchased the vehicle outright, the maintenance is up to you. But keep in mind that there are many benefits to regularly maintaining your vehicle:
Prolonged vehicle life – The Audi will get you around in style, but it's regular maintenance that ensures you're getting there reliably and safely.
Better fuel efficiency – frequent oil changes and engine checks will make sure you're getting the best MPG.
Higher resale value – No one wants to buy a car that is questionable. Service history is a question you're bound to get when selling your vehicle. We provide Audi Certified Services, which is a huge selling point! Also, we can provide you with the service history, for those skeptical buyers.
Warranty coverage will still be in effect as you're guaranteed all service and parts are Audi certified.
If you purchased your vehicle pre-owned, or from a third-party dealer, make sure to ask if the vehicle already has Audi Care. If the original buyer purchased the pre-paid maintenance plan, and hasn't used all the services, you can now get the coverage they didn't use. It's like winning the maintenance lottery!
If you include the Audi Care plan when you purchase your new vehicle, you can put your mind at ease knowing your first four maintenance visits are covered:
10,000 mileage service
20,000 mileage service
30,000 mileage service
40,000 mileage service
These services must be completed at an Audi Certified Dealership in the country where you purchased the plan. However, the service does not need to be performed at the dealership where you purchased your vehicle.
You can even purchase Audi Care from an Audi Certified Dealership other than the one where you purchased your vehicle. If you find yourself visiting family on the other side of the country, just give the closest Audi Certified Dealership a call and they can honor your Audi Care Plan, it is a national program.
Be careful, Audi Care will not cover any maintenance performed by aftermarket or independent service shops.
Depending on your average mileage driven per year, Audi has released time parameters that can be used in lieu of mileage requirements for those that drive fewer miles. Below is a chart reflecting opening dates and expiration dates for each service:
Audi Care Schedule for 2020 and Newer Vehicles (low mileage)
| | | |
| --- | --- | --- |
| Scheduled Maintenance | Earliest date from in-service | Expiration Date from in-service |
| 10,000-mile service | 12 months (1 year) | 24 months (2 years) |
| 20,000-mile service | 24 months (2 years) | 36 months (3 years) |
| 30,000-mile service | 36 months (3 years) | 60 months (5 years) |
| 40,000-mile service | 48 months (4 years) | 60 months (5 years) |
*Package expires at 52,000 miles
Extended Audi Care Packages
If you are planning on keeping your Audi beyond the 40,000-mile mark, you're prepaid maintenance savings can continue to grow and you can ensure your Audi is healthy and in great condition for the long haul. Audi Care Packages are available to cover scheduled maintenance visits all the way out to 92,000 miles or 108-months in service (whichever occurs first).
Again, these services can be performed at any Audi Certified Dealership in the country. You do not have to get the vehicle serviced at the same dealership where you purchased your vehicle.
How Prestige Imports helps Colorado Audi drivers get the most out of their Audi Care plans
In our Audi service department, we will keep track of your scheduled maintenance visits and do our best to remind you when your next service is due. This helps ensure that you get all the savings provided by Audi Care. And if you have any additional questions, we will have an Audi Certified Service Advisor available to help you out.
If you need more information about Audi Care simply contact our Finance Department or visit the Audi Care page on PrestigeAudi.com.
If it is time to schedule your next service appointment, just fill out our Service Appointment Form.
***
Did you find this article helpful? Did we miss anything? If you have questions or comments, just click the button below. We are here to help!

Questions or Comments >>