5th Annual Winter Driving Event: 02 and 03 January 2016
---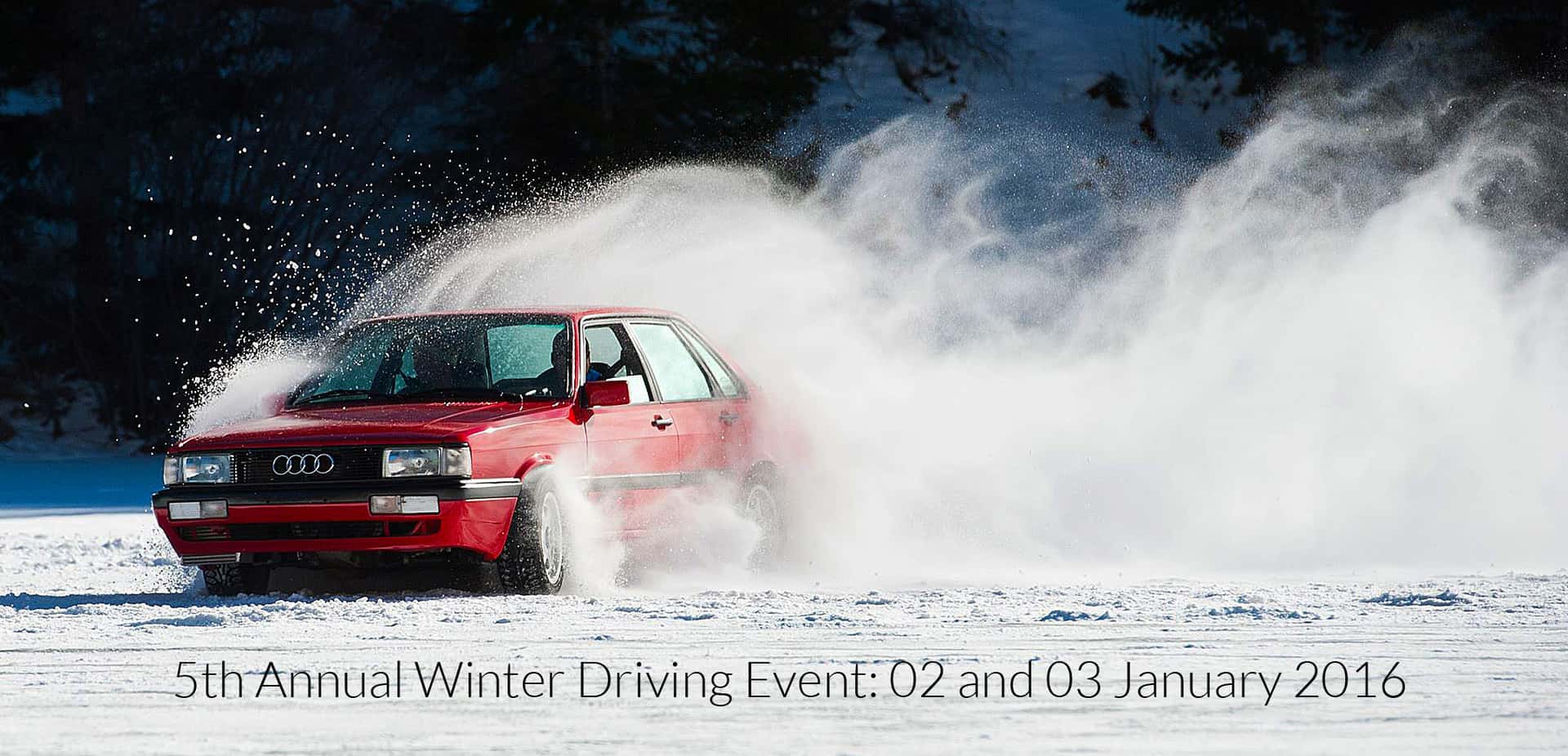 5th Annual Winter Driving Event: 02 and 03 January 2016
On the 2nd and 3rd of this January, Prestige Imports hosted its 5th annual Winter Driving Event in Georgetown, CO. The dealership held the event on Georgetown Lake, which was frozen to a depth of 16.5 inches. It brought together Prestige employees, customers, as well as Audi and Porsche enthusiasts, for a day chock-full of extreme driving, good times, and hilarity.
The day began relatively early at the Alpine Restaurant and Bar. Participants congregated around 7:15am, filling up on eggs, bacon, pancakes, and coffee. Once everyone ate to their stomach's content, event instructors David Hackle and Scott Justusson of the QClub of North America delivered tips to drivers on how to effectively operate a vehicle on ice, helpful safety procedures, and words of encouragement. They embellished their primer with visual aids (e.g. a detached steering wheel, a course map, and a "friction" diagram) in order to more clearly convey their message.
Once David and Scott finished their presentation, Prestige Imports General Manager Justin Adis spoke to the crowd of 35-45 people, thanking them for their participation at the event and their patronage of the dealership. He then selected raffle tickets from a hat and presented Ace Hardware gift certificates to two lucky winners.
Shortly thereafter, everyone left Alpine and caravaned over to Georgetown Lake. As the vehicles entered the lake area, guides directed each alternating vehicle toward one of the two courses.
Each group did one "parade" lap around their respective courses, cruising the circuits at 5mph so as to orient themselves safely with the layout of the track.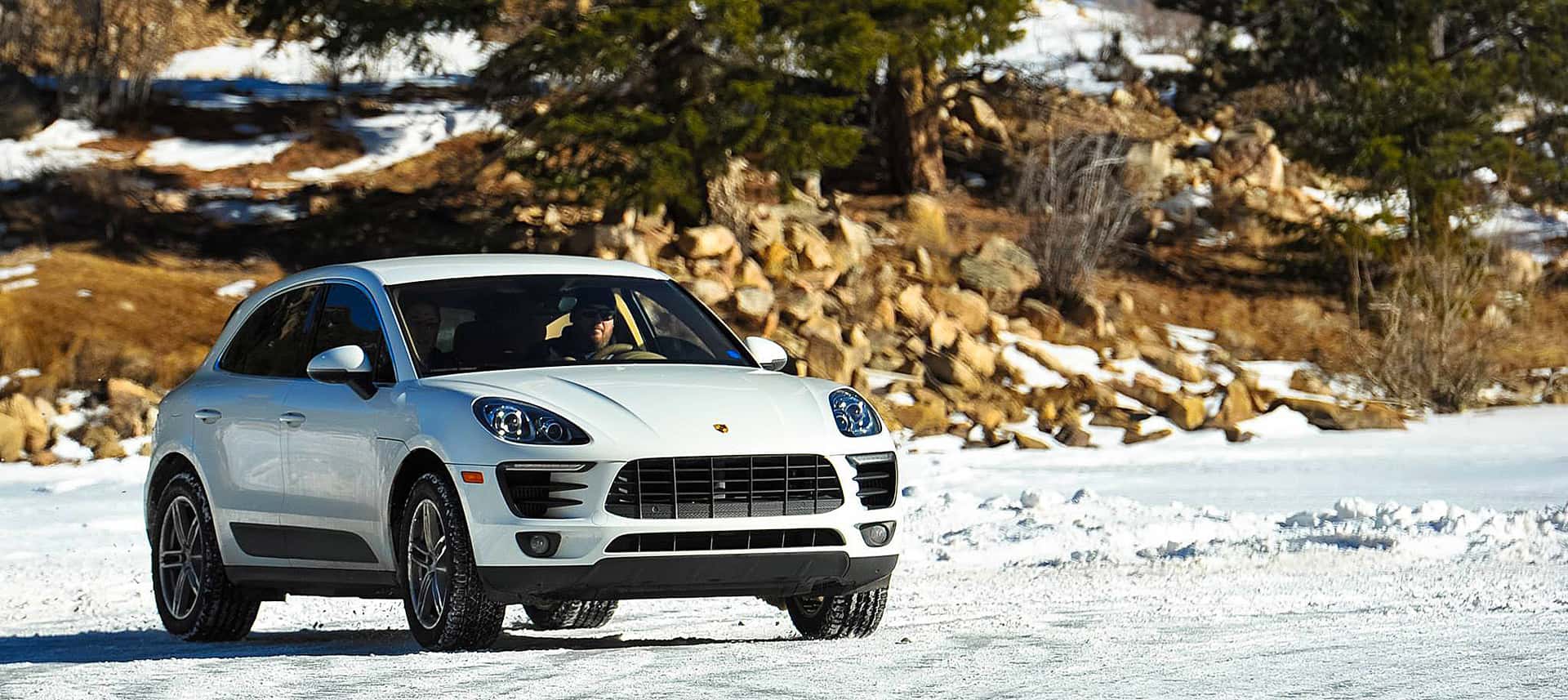 After the lap, drivers lined up their vehicles at the starting point in four rows and columns that were, in some cases, six cars deep. Participants, then, exited their vehicles and listened to one last round of group instruction.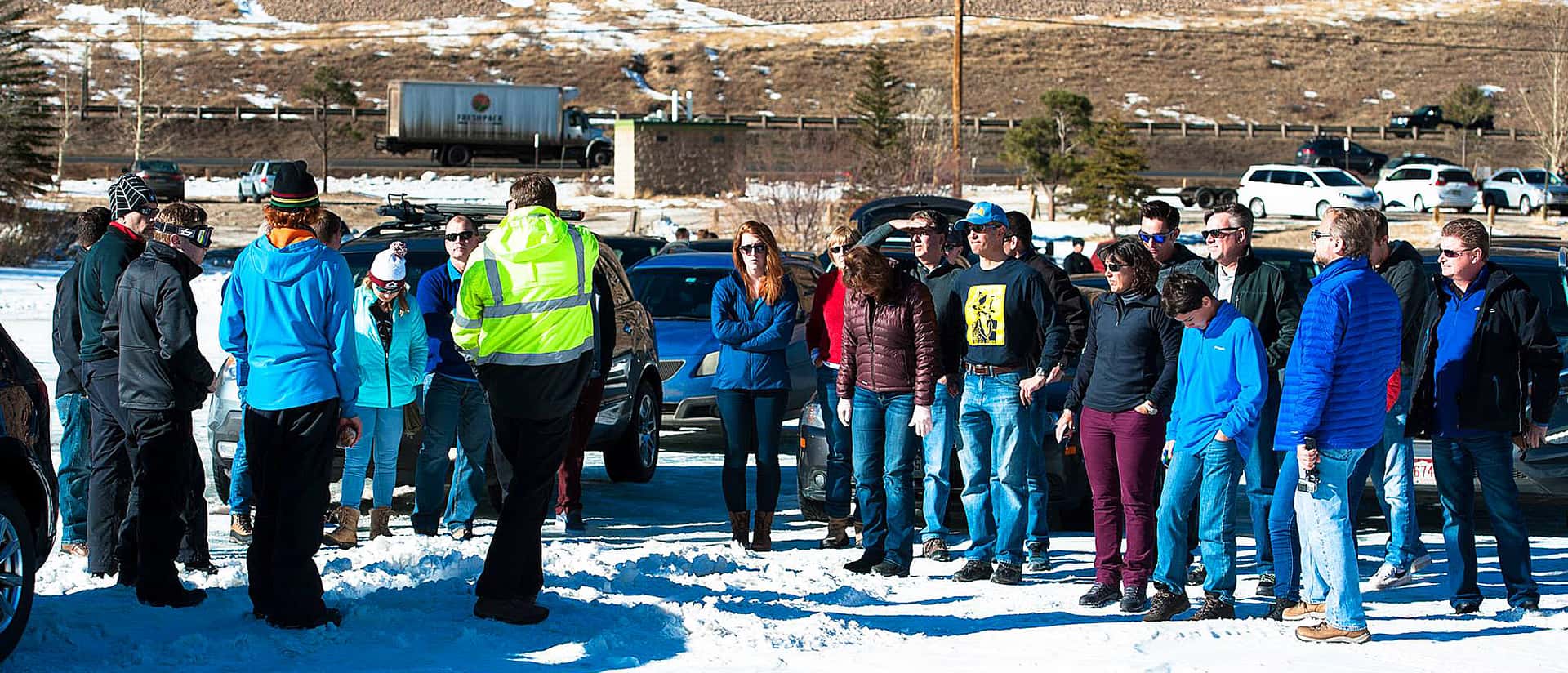 Around this time, the sun came up over the mountain ridge adjacent to the lake, broke through the clouds, and provided a comfortable climate for the remainder of the day. No doubt, this was a sign that the morning event was sure to be a success.
For the first few laps, driving guides accompanied participants in order to provide individualized maneuvering, handling, and turning tips for their specific car. Once each driver became more comfortable behind the wheel while on ice, they began to venture out on the lake by themselves.
I, too, was able to join in on the festivities Saturday morning. My day started not so bright, but very much early, as I arrived at Prestige Imports in the predawn hours to pick one of the dealership's vehicles that customers could take out on the ice: a gray 2012 Porsche Panamera 4. I drove from Lakewood to Georgetown, drank a few cups of coffee, ate several pieces of bacon at Alpine, then headed to the Lake with everyone else.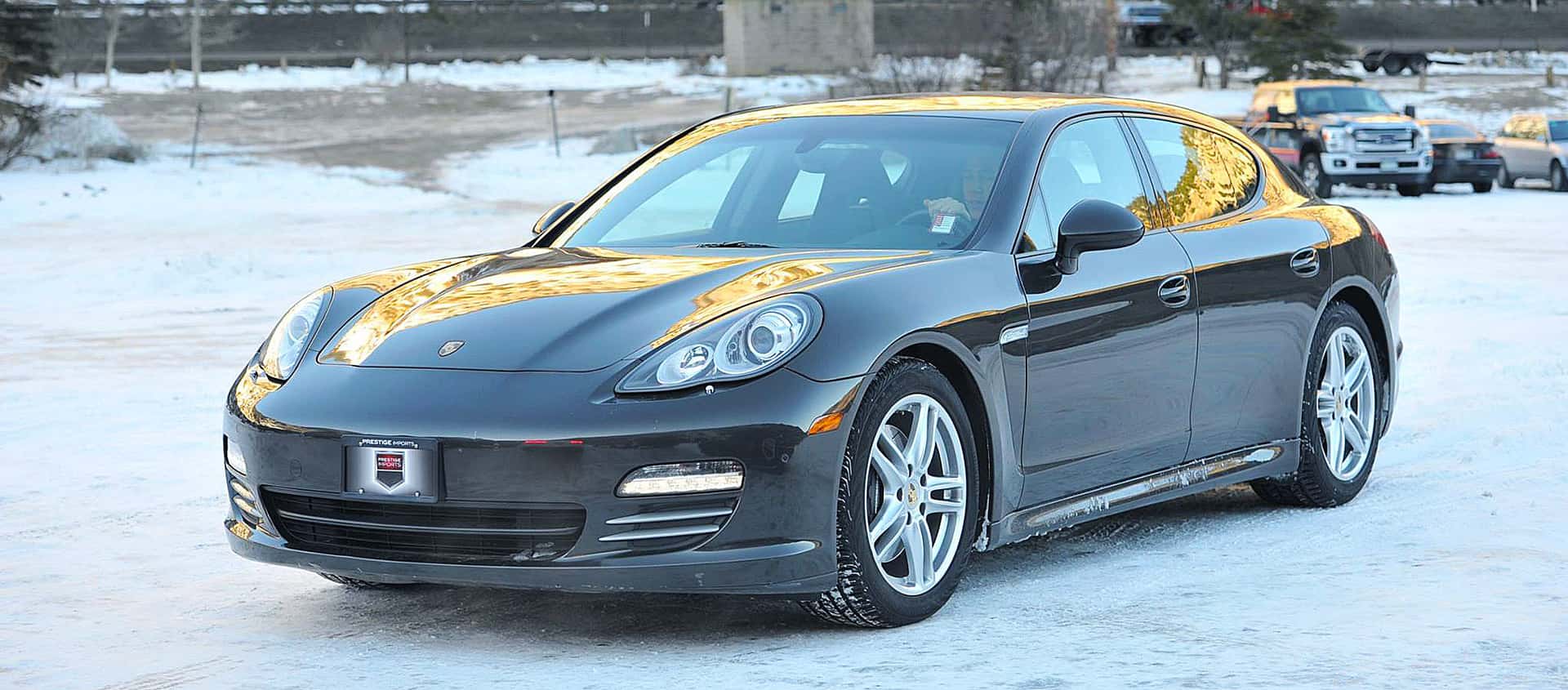 During the initial parade lap, my first thought was: "Hey, this ice driving thing is ridiculously simple"; it's easy to have that impression, though, when you're driving a measly 5mph. After orienting myself to the track, I lined up with the rest of the drivers and waited for my first proper run. When my turn finally arrived, I traversed the course with ease, yet again. As such, my thoughts regarding the difficulty of ice driving altered very little. Although, it should be noted that I probably was only driving 10-12mph during that lap.
At that point in the morning, I parked the Panamera so customers could take it out for a spin. Seeing that I had exited my vehicle, Event Planner and fellow Marketing Department member Chris Poling invited me into the Audi A6 she was driving. Experiencing someone else handling a car on the ice—well, it change my opinion of the Winter Driving Event greatly.
Chris, who helped plan the Winter Driving Event (as well as Oktoberfest, Day at the Track, and the Spring Mountain Tour), wasn't shy about revving the engine and taking the track's corners at higher speeds than I previously had done. Not only were we driving at speeds around 15-18mph, but she was commanding the Audi in such a manner that we stayed level and within the course boundaries, drifting through hairpins and lifting loose accumulations of snow into the air. It felt very much like an amusement park ride.
After riding shotgun for a few more laps, I decided that I was ready to jump back into another car and test my skills with a heavier foot, so to speak. Someone had parked an Audi A4 off to the side of the course, so I hopped into it and took it for a spin.
My first attempt was an utter failure, to say the least. The previous driver, unbeknownst to me, had engaged the vehicle's traction control system. Thus, every time the wheels slipped, the engine would cut off and I could not accelerate through the corners. In fact, I rarely eclipsed 10mph. If nothing else, this should provide Audi owners comfort, knowing that their vehicles provide them with superior safety measures when road conditions are less than ideal.
Eventually (it took a while, relatively speaking), I completed the lap and disengaged the traction control system. Now I really was ready to drive the course like a champ! Well, at least I thought I was ready. Once it was my turn to drive, I depressed gas pedal fully and watched the tachometer rev into theretofore unattained levels. Then I took my first turn and promptly entered a 360 degree spin. Perhaps this wasn't as easy as I thought.
Again, I depressed the accelerator, sped down a straightway, and entered the next turn. And, yes, once again I spun out. Turn after turn resulted in the same outcome: me spinning like a top and sliding across the course boundaries into a small snow drift. Eventually, the two cars that left the starting line after me lapped my car. Once I completed the circuit, I took the car out for a few more laps; although subsequent attempts were nowhere near as horrendous as my first run in the A4, they weren't all the great either. Nonetheless, my experience was enjoyable.
Toward the end of the day, I rode in the backseat of an 1984 Audi Quattro driven by Justin Adis. In that moment, I realized, firsthand, the joys of ice driving. I could attempt to articulate the experience in words, but I think the best way to convey the excitement and, well, joy of the event is to look at a couple pictures of Adis driving the Quattro that morning:
Cornering around a turn at 20-something mph on a sheet of ice as the back wheels of an classic Audi coupe churn up clouds of powder, all the while looking out the window at evergreen covered mountainsides in the Rockies? Yes, this was, in word, fantastic. While my driving skills are, at best, sub-par, sitting as a passenger in a vehicle commanded by someone who knows what they're doing is rather thrilling. It feels as though the car will go careening out of control at any moment, but, miraculously, the driver drifts through every turn with an exacting precision.
If this all sounds/looks appealing to you, make sure you sign up for our event next year. We usually take reservations after the Thanksgiving holiday, so keep your eyes open for annoucements about the event. In the Spring and the Summer, we host the Mountain Tour and the Day at the Track, respectively. Those events should prove to be just as exciting.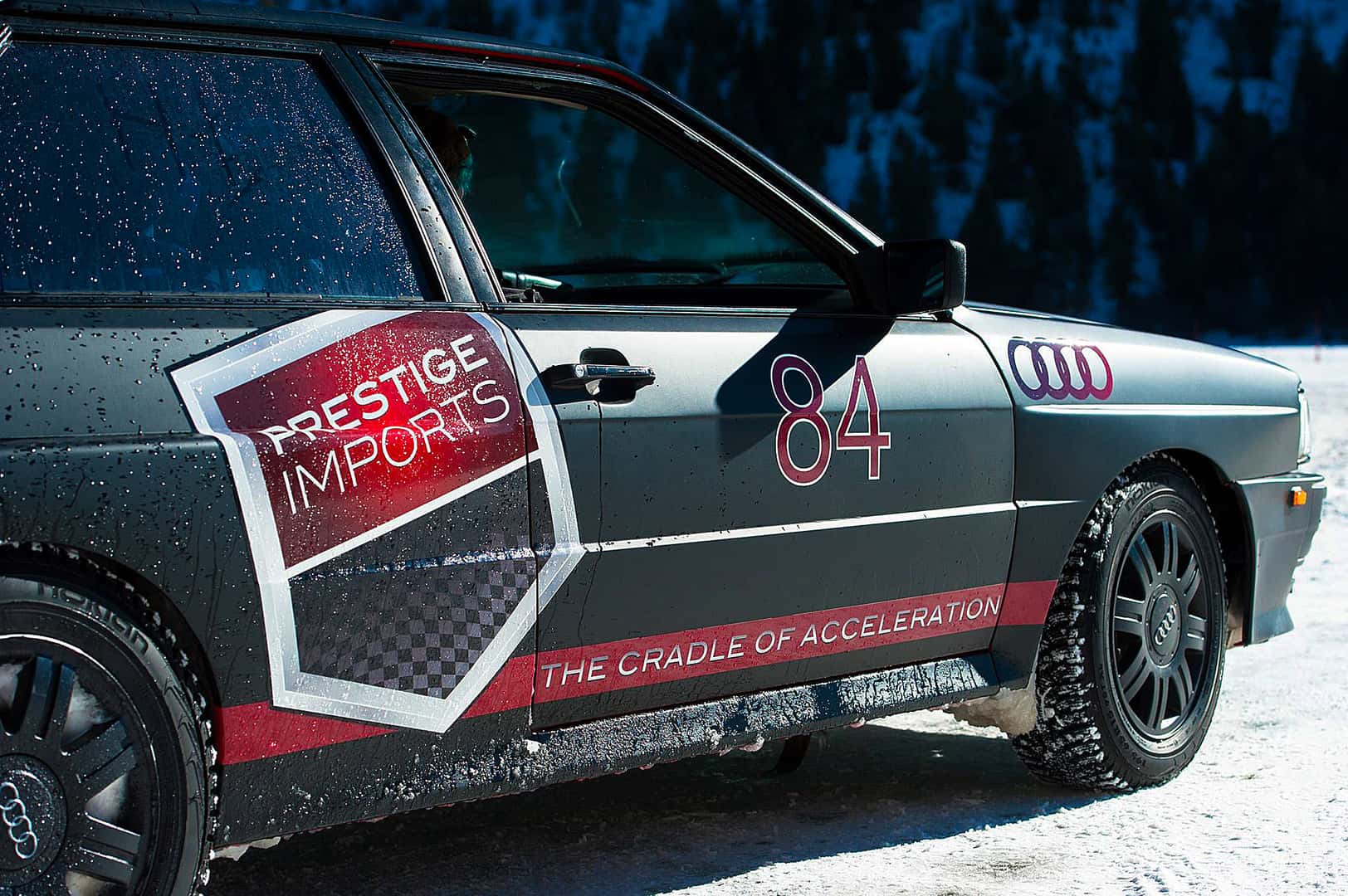 Until then, make sure to visit Prestige Imports, located at 9201 West Colfax Avenue between Wadsworth and Kipling, and check out our inventory of Audi and Porsche vehicles. You can also call us at (888) 446-4994 to make an appointment with someone in our Sales Department.