2018 Audi Q5 Vs 2017 Audi Q5: A Remarkable Redesign
---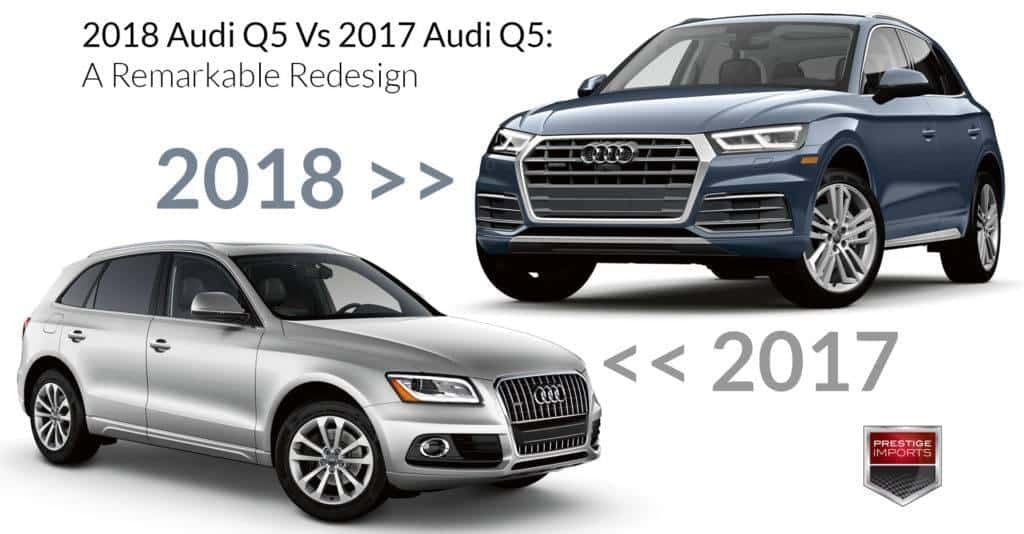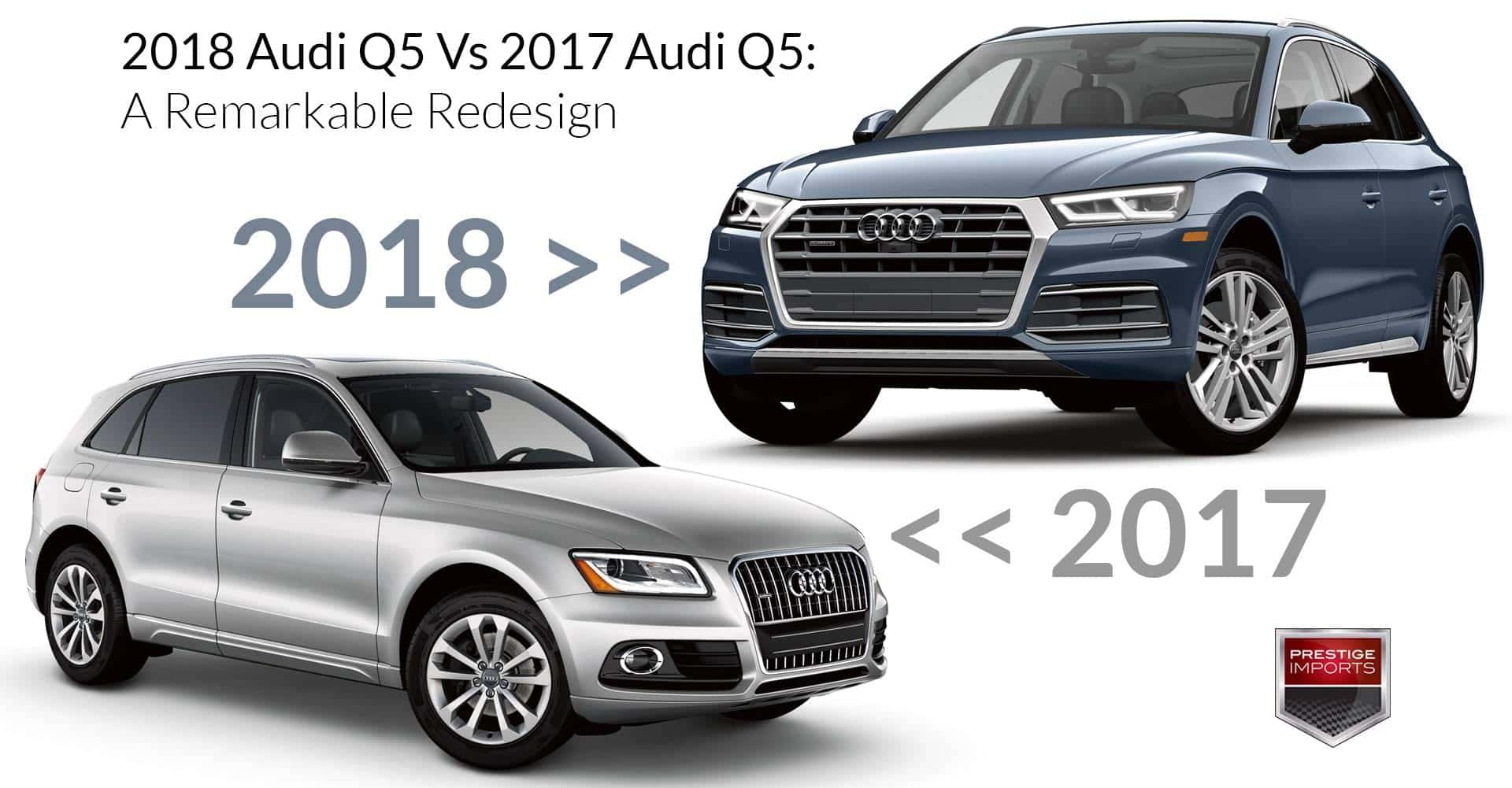 When Audi launched the first generation Q5 in 2009, it hit the market like a whisper, not a shout. That first year, only
14,000 units were sold
. But from that humble beginning, the Q5 has grown to Audi's top-selling model and the standard bearer in the luxury crossover segment. Interestingly, the Q5 has accomplished all this without a significant update since that initial launch, all the way back in 2009. Needless to say, a major upgrade is long overdue.
Enter the 2018 Audi Q5, a ground up redesign of what is an already monumentally successful luxury crossover. As is the norm for Audi, the visible changes to the vehicle are subtle but comprehensive. They took the things that were already well loved about the first generation Q5 and made them better. Then they added aggressive new styling, some impressive efficiency improvements, and a boatload of mind blowing new technology to come up with a second generation Q5 that will set the standard for years to come.
2018 Audi Q5 Vs 2017 Audi Q5: Exterior

The overall look of the vehicle has stayed pretty consistent. The 2018 model is one inch longer, two inches wider, and a tenth of an inch taller. The wheelbase stretched by a half inch.
The Q5's sheet metal got some additional detailing on the hood and an aggressive character line that runs from the headlights, all along the side of the vehicle and wraps around the rear, just beneath the rear windscreen. The front-end is graced with the latest iteration of Audi's trademark Singleframe grill and the side view mirrors are now more angular and seem better proportioned to the rest of the exterior design.
In the end, the new aggressive design provides more than a fresh modern look, it also decreases the 2018 Q5's drag coefficient.
2018 Audi Q5 Vs 2017 Audi Q5: Interior and Technology

The interior of the Q5 has been upgraded to closely resemble Audi's new Q7 and A4 models, with a more refined design and improved ergonomics. More efficient use of space, combined with a lower dashboard height, and slimmer roof pillars gives the new Q5 a more open feel while improving visibility. And if the new interior is an incremental improvement over the 2017 model, the new technology is light-years ahead.
An updated MMI infotainment system can be paired with an optional touchpad with handwriting recognition. Additionally, Audi's new Virtual Cockpit is available as part of the navigation package. It replaces traditional analog gauges with a 12 inch LCD that can be configured in a variety of ways to suit the driver.
The 2018 Audi Q5 also receives a bevy of updated safety options. Audi pre sense city comes standard, this system is able to spot people and vehicles that cross the Audi's path and it will initiate a full autonomous stop at speeds up to 52 mph.
Premium Plus and Prestige trims fitted with Driver Assistance gain even more safety features: Side-assist, rear cross-traffic alert, turn-assist, adaptive cruise control with stop & go, traffic sign recognition, and more.
2018 Audi Q5 Vs 2017 Audi Q5: Performance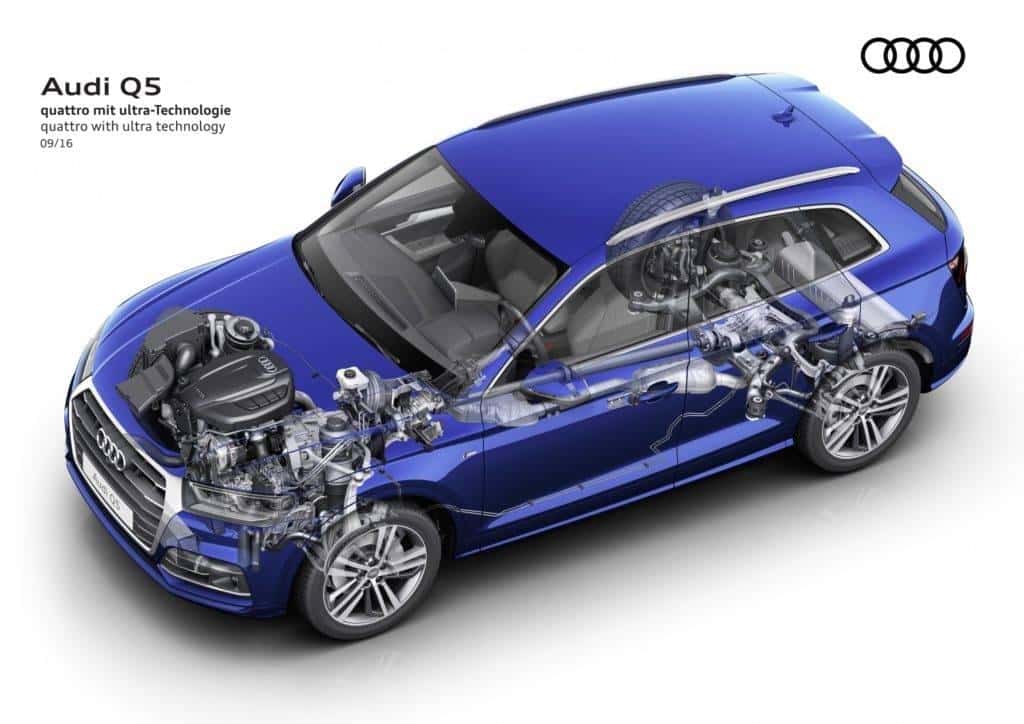 Prior to 2018, the Audi Q5 was available with two engine options the 2.0T with 220 hp and the 3.0T with 272 hp. For the new generation, Audi has decided to simplify to one engine, but to increase its performance. This latest iteration of Audi's venerable 2.0T puts out 252 hp and 273 lb-ft of torque. The upgraded engine is paired with a 7-speed double clutch S-tronic transmission. Together, this combination can propel the 2018 Q5 to 60 mph in just 5.9 seconds, 1.1 seconds faster than the 2017 Q5 2.0T and 0.1 seconds faster than the 2017 Q5 3.0T.
Additionally, Audi has upgraded the drivetrain to "quattro all-wheel drive with ultra technology". This is Audi's state of the art, six years in the making, all-wheel drive technology. It monitors driving conditions 500 milliseconds ahead and can engage the quattro system in under 200 milliseconds. This allows the 2018 Q5 to maximize fuel efficiency without sacrificing the all-wheel drive performance that Audi is known for.
2018 Audi Q5 Vs 2017 Audi Q5: Fuel Efficiency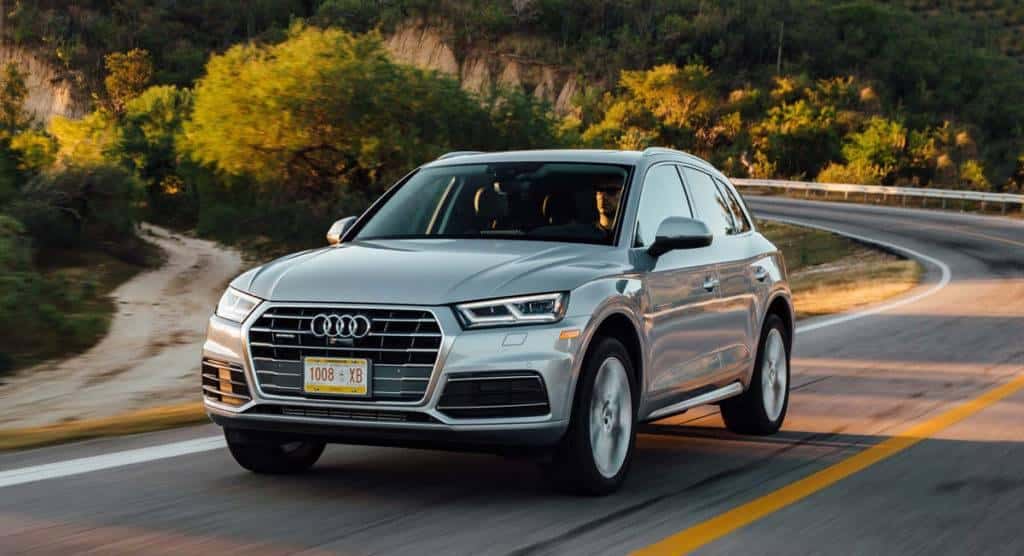 To highlight a few of the points made above … The new Q5 has a decreased drag coefficient, an upgraded two-liter turbocharged engine, a new S-tronic transmission, and a state of the art all-wheel drive system. Add to this a ground-up redesign of the multi-material steel and aluminum chassis/body and Audi's new start-stop efficiency system and you have the formula for a big improvement in fuel efficiency.
The 2018 Audi Q5 does not disappoint, especially when driving around town. EPA estimates put the new Q5 at 23 mpg in the city, 27 mpg on the highway, and 25 mpg combined. This is compared to the 2017 Q5 which was estimated at 20 mpg in the city, 27 mpg on the highway, and 22 mpg combined. The new Q5's three miles per gallon improvement in both city and combined driving equates to approximately 27 additional miles of driving per tank of gas, even though that tank is 1.3 gallons smaller than on the 2017 Audi Q5.
2018 Audi Q5 Vs 2017 Audi Q5: The Future Looks Bright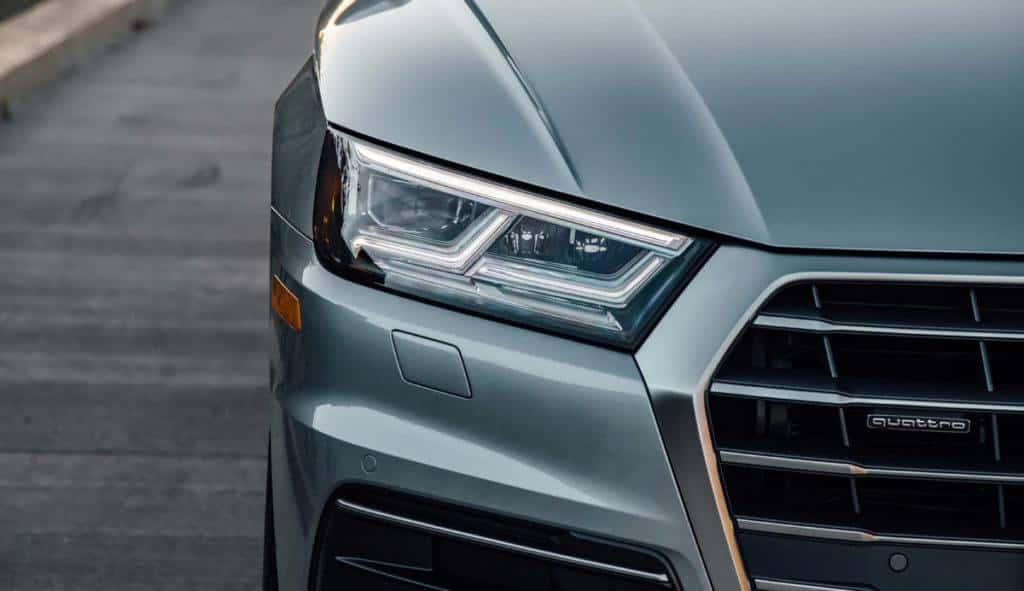 So, how did Audi set out to top their already best-selling model? They kept the incredibly popular luxury crossover form factor, and they made it better in almost every conceivable way. Don't believe me? Take a look at the chart below. The 2018 Audi Q5 Specifications are highlighted in green and the 2017 Audi Q5 specifications are highlighted in blue. The bold text calls out the superior specification. As you will see, the news for the 2018 model is almost entirely good. The only drawbacks came in a slight increase in turning radius (3.5 inches), and a slight decrease in cargo volume with the seats up (2.3 cubic feet). However, cargo volume with the seats down actually increased by 3.1 cubic feet for 2018.
2018 Audi Q5 Vs. 2017 Audi Q5: Side-By-Side Specifications
Specification
2018 Audi Q5 2.0T
2017 Audi Q5 2.0T
Engine type
Four-cylinder
Four-cylinder
Engine block / Cylinder head
Cast-iron / Aluminum-alloy
Cast-iron / Aluminum-alloy
Displacement (cc)
1984
1984
Horsepower (@rpm)
252 @ 5000-6000
220 @ 4450-6000
Torque (lb-ft @ rpm)
273 @ 1600-4500
258 @ 1500
Valvetrain
16-valve DOHC with Audi valvelift system
16-valve DOHC with valvelift system
Induction/Fuel injection
Turbocharged/TFSI
Turbocharged/TFSI
Start-stop efficiency system
Yes
No
Acceleration (0-60 mph)
5.9 seconds
7.0 seconds
Transmission
7-speed S-tronic dual-clutch automatic
8-speed Tiptronic automatic
Drivetrain
quattro all-wheel drive with ultra technology
quattro all-wheel drive
Body construction
Multi-material steel and aluminum
Steel unibody with aluminum hood and tailgate
Suspension
Five-link front and rear
Five link front, Trapezoidal-link rear
Adaptive damping suspension
Available
Not available
Brakes
Ventilated front & rear discs (13.3/13.0in)
Vent. front / Solid rear discs (12.6/11.8in)
Steering
Electromechanical power steering system
Electromechanical power steering system
Turning cicrle, curb to curb (ft)
38.4
38.1
Wheelbase (in)
111.0
110.5
Overall width with mirrors (in)
84.3
82.2
Track, front/rear (in)
63.3 / 63.3
63.7 / 63.5
Curb weight (lb)
4045
4090
Drag coefficient (Cw)
0.32
0.33
Towing
Trailer hitch provision with 4400-lb max towing capacity and 440-lb tounge weight
Trailer hitch provision with 4400-lb max towing capacity and 440-lb tounge weight
Head room front with sunroof (in)
40.2
39.4
Head room rear with sunroof (in)
37.7
37.7
Leg room front (in)
41.0
41.0
Leg room rear (in)
37.8
37.4
Shoulder room front (in)
57.7
57.7
Shoulder room rear (in)
56.5
56.4
Cargo Volume, rear seatbacks up (cu ft)
26.8
29.1
Cargo Volume, rear seatbacks down (cu ft)
60.4
57.3
EPA mileage estimates (city/highway/combined)
23/27/25
20/27/22
Recommended fuel
Premium
Premium
All in all, we think you will find that the new Audi Q5 is a major upgrade and a worthy successor to an already great vehicle. This latest model is sure to leave Audi's competitors in the luxury crossover segment scrambling to keep up.
2018 Audi Q5 Vs 2017 Audi Q5: Info for Denver drivers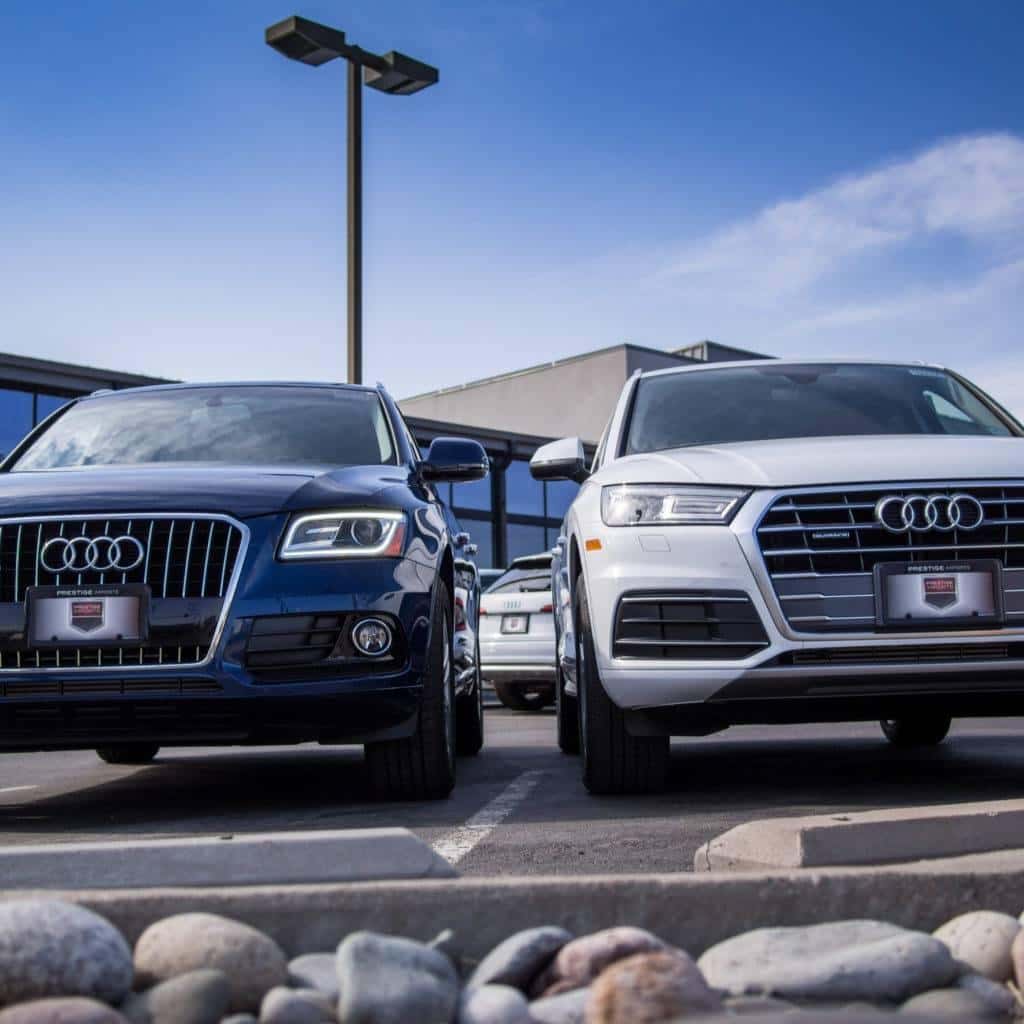 The Audi Q5 has been an incredibly popular vehicle here in the Denver market. The combination of cargo room for outdoor equipment and performance for climbing mountain passes makes it an ideal Colorado car. With all the improvements outlined above, this is even more true with the 2018 model. Here at Prestige Imports, we have the 2018 Audi Q5 in stock and ready for delivery today. Also, we still have a few of the 2017 models around, so be sure to stop by and perform your own side-by-side comparison. Whether you are interested in dramatic cost savings on a 2017 or getting the latest and greatest technology on a 2018, now is the perfect time to stop by Prestige Imports and drive away in a brand new Audi Q5.
***
Did you find this article helpful? Did we miss anything? If you have questions or comments, just click the button below. We are here to help!

Questions or Comments >>