Oktoberfest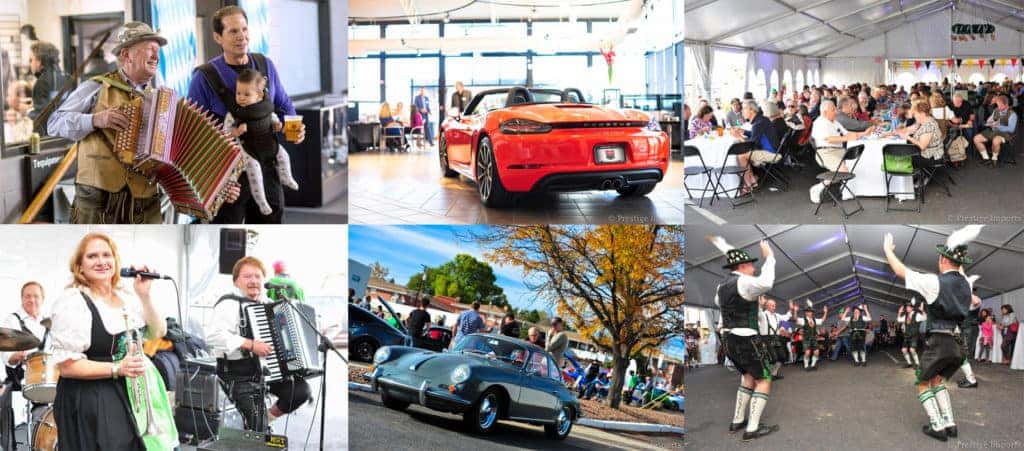 Oktoberfest Is Back!
After a two-year hiatus, Oktoberfest is making a comeback, but with a twist. For 2021, we are teaming up with the Denver Kickers Sport Club to sponsor a three-day event …
Denver Kickers Sport Club presents Oktoberfest on September 17-19, 2021 at the Kickers Clubhouse in Golden, CO. Come enjoy the Biergarten at the base of North Table Mountain with a beautiful view towards downtown Denver. Festival guests will enjoy classic German fare, including brats, schnitzel, pretzels, and more. There will be a Keg tapping ceremony on Friday evening followed up with lots of fun for the weekend with Bavarian Live Music, Denver Kickers Schuhplattlers Dancers, Costume Contest, Stein Holding Contest, and much more! Family-Friendly event.
The festivities will run from 5:00 – 9:00 pm on Friday, Sept 17, 12:00 – 9:00 pm on Saturday, Sept 18, and 12:00 – 5:00 pm on Sunday, Sept 19th.
As a sponsor of the event, Prestige Imports will be giving free VIP admission tickets and $20 food/drink vouchers to the first 75 Prestige customers that complete the Oktoberfest form on this page (2 tickets/vouchers per customer).
Additional tickets and vouchers can be purchased at denverkickersoktoberfest.com
All proceeds from this event will benefit the Denver Kickers Sport Club. The Denver Kickers aim is to provide: youth soccer players with the chance to excel to the highest degree desired at all levels of play; adult soccer players with a competitive and positive playing environment; to provide members and the community with a space to celebrate the Club's cultural roots through dance and events.
We have reached our allotment of VIP ticket entries.
Standard tickets and food/drink vouchers are still available for purchase at:
---