Certified Volkswagen Body Shop in Denver, CO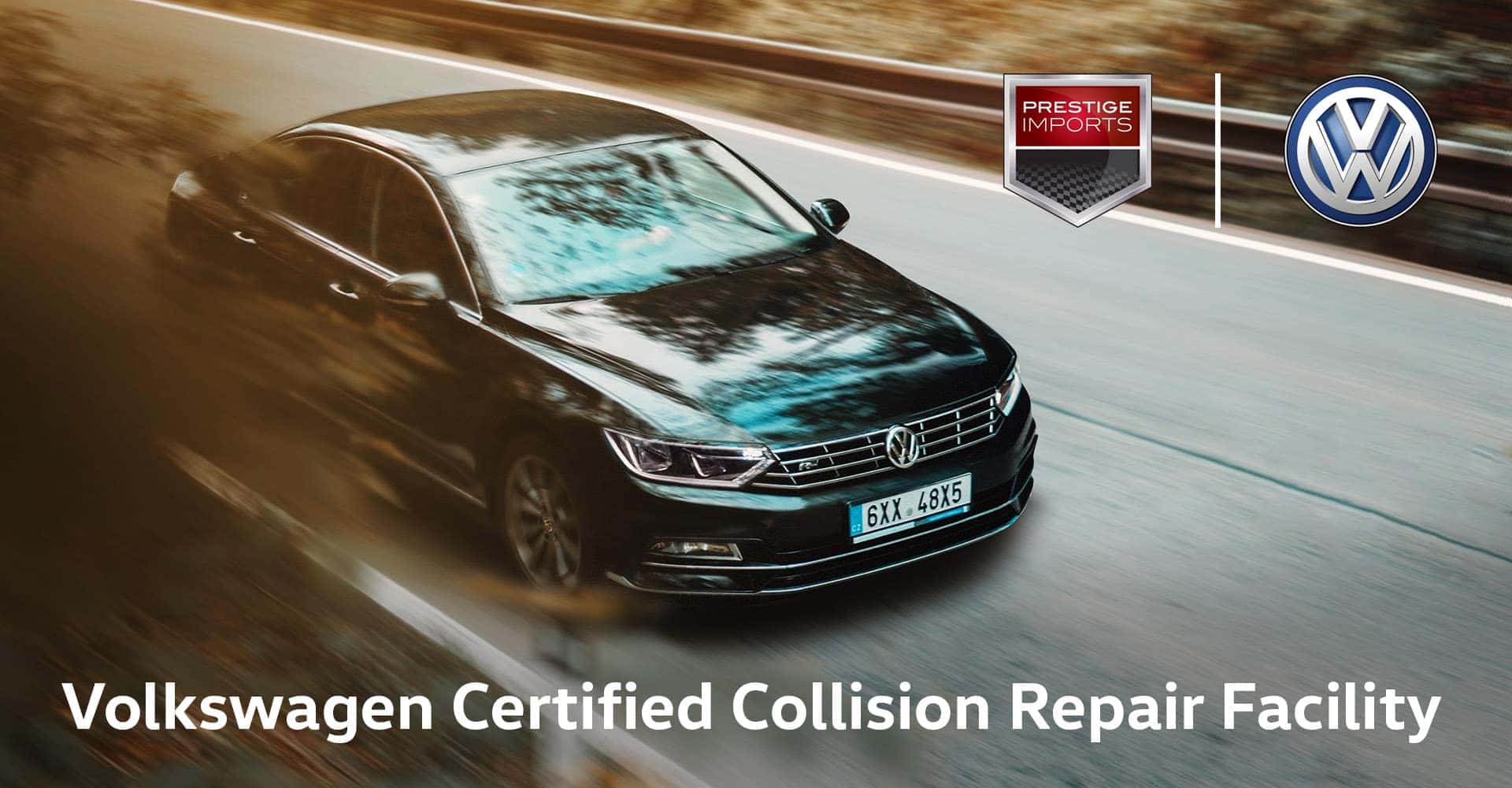 Prestige Imports is proud to be a Volkswagen Certified Collision Repair Facility in Denver, CO
As a certified Volkswagen body shop, Prestige Imports has the parts, diagnostics, tools, and expertise necessary to restore your VW to its pre-collision condition. We are committed to meeting all Volkswagen of America standards through required ongoing industry education and annual certifications.
Knowledge & Skill
To achieve our status as a certified Volkswagen body shop, we have earned I-CAR Gold Class Professional® certification.
I-CAR Gold Class Professional®

I-CAR (The Inter-Industry Conference on Auto Collision Repair) is a non-profit organization dedicated to providing education to the collision repair industry, ensuring proper repairs. I-CAR Gold Class Professionals®, is the highest I-Car level of achievement and considered the highest level of training in the industry.
Volkswagen Specific Training
In addition to collision center industry certifications, the Prestige Imports Collision Center has undergone extensive VW-specific training ensuring we are up to date on all the newest Volkswagen technology.
Volkswagen Specific Repair Information
As a certified VW body shop, we have exclusive access to service and repair information straight from Volkswagen of America. This includes both mechanical and collision repair information, for every vintage and every model of Volkswagen vehicle.
Tools and Equipment
Every vehicle manufacturer has specialized tools and equipment that are absolutely necessary for proper repair. Volkswagen is no exception. As a certified VW body shop, we are equipped with all the tools needed to properly repair your vehicle and we have been thoroughly trained to use this equipment.
Facility Standards
VW certification entails an annual facility inspection. As such, our Volkswagen certified collision repair center maintains a clean and professional customer lounge for our guests. Also, we are required to provide a safe and efficient work space, inside and outside the shop, for our technicians and estimators.
Customer Satisfaction System
The Prestige Imports Collision Center is committed to customer satisfaction. Volkswagen of America monitors this commitment through a customer satisfaction survey system. The system ensures that we are meeting the needs of our customers and living up to the standards set by VW.
Volkswagen Body Shop – Annual Inspection and Certification
VW certification is not a one-time deal. Volkswagen of America annually inspects our facility to verify proper equipment, cleanliness, overall shop operation, and technician training.
Prestige Imports Uses Only Genuine Volkswagen Parts
Volkswagen parts are a perfect match for Volkswagen cars. This is because Genuine Volkswagen Parts originate from the development of the cars and are designed specifically for each of the models. Therefore, you can be sure that Genuine VW Parts will fit precisely and are of superior quality. This helps the Prestige Imports Collision Center deliver short repair times and long-lasting durability. Don't entrust your safety to sub-standard parts.
Aftermarket Parts: A copy of a copy
Claims that non-OEM parts are "just as good" as Genuine Volkswagen Parts should be viewed with deep skepticism. Aftermarket parts do not have to meet VW specifications and they are typically created by "reverse engineering" the real parts. There is no requirement that they be built to the same quality standards. The non-OEM parts could use different specifications, materials, or manufacturing methods. Also, aftermarket parts are not required to undergo crash testing to ensure their performance with your Volkswagen's safety systems.
It's Your VW and You Do Have a Voice in the Process.
You have an important role in returning your Volkswagen to its pre-accident condition. You have the most vested interest in restoring your vehicle's look, safety, structural integrity, and performance.
We would suggest that you get involved in the process. Know that you're allowed to take your vehicle to the repair facility of your choice. Don't let your insurance company dictate the entire claim process — you have the right to complete your own research and get estimates before you start any repairs. Ask questions. Learn your rights. And choose a certified VW body shop where repairs are made according to Volkswagen standards and specifications.
Prestige Imports, Your Certified Volkswagen Body Shop in Denver
Accidents are unfortunate and unpredictable. If your VW is involved in one, choosing a Volkswagen Certified Collision Repair Facility can make all the difference.
Bring your VW to Prestige Imports for the quality of repair mandated by Volkswagen of America. At Prestige we believe your car deserves the level of expertise necessary to restore it to original factory specifications, and nothing less.
This same commitment applies to all of our Collision Center certifications: Acura, Audi, Honda, Jaguar, Land Rover, Mercedes-Benz, Porsche, Subaru, Tesla, and Volkswagen. We have invested over one million dollars in equipment and training to ensure our qualifications to repair these vehicles to the highest manufacturer standards.
If your VW requires body repair after a hail storm, collision or other accident, please fill out the form on this page. One of our repair specialists will contact you as soon as possible. You may also give us a call at (303) 557-5937 or visit us at 1590 Dover St., Lakewood, CO 80215. Stop by today to experience the Prestige Imports difference!
Collision Center Hours:
Monday – Friday
8:00AM – 5:00PM
---
Call Us: (303) 557-5937
---
Stop By:
Prestige Imports Collision Center
1590 Dover St.
Lakewood, CO 80215
---
Schedule an Estimate:

---