Certified Mercedes-Benz Body Shop in Denver, CO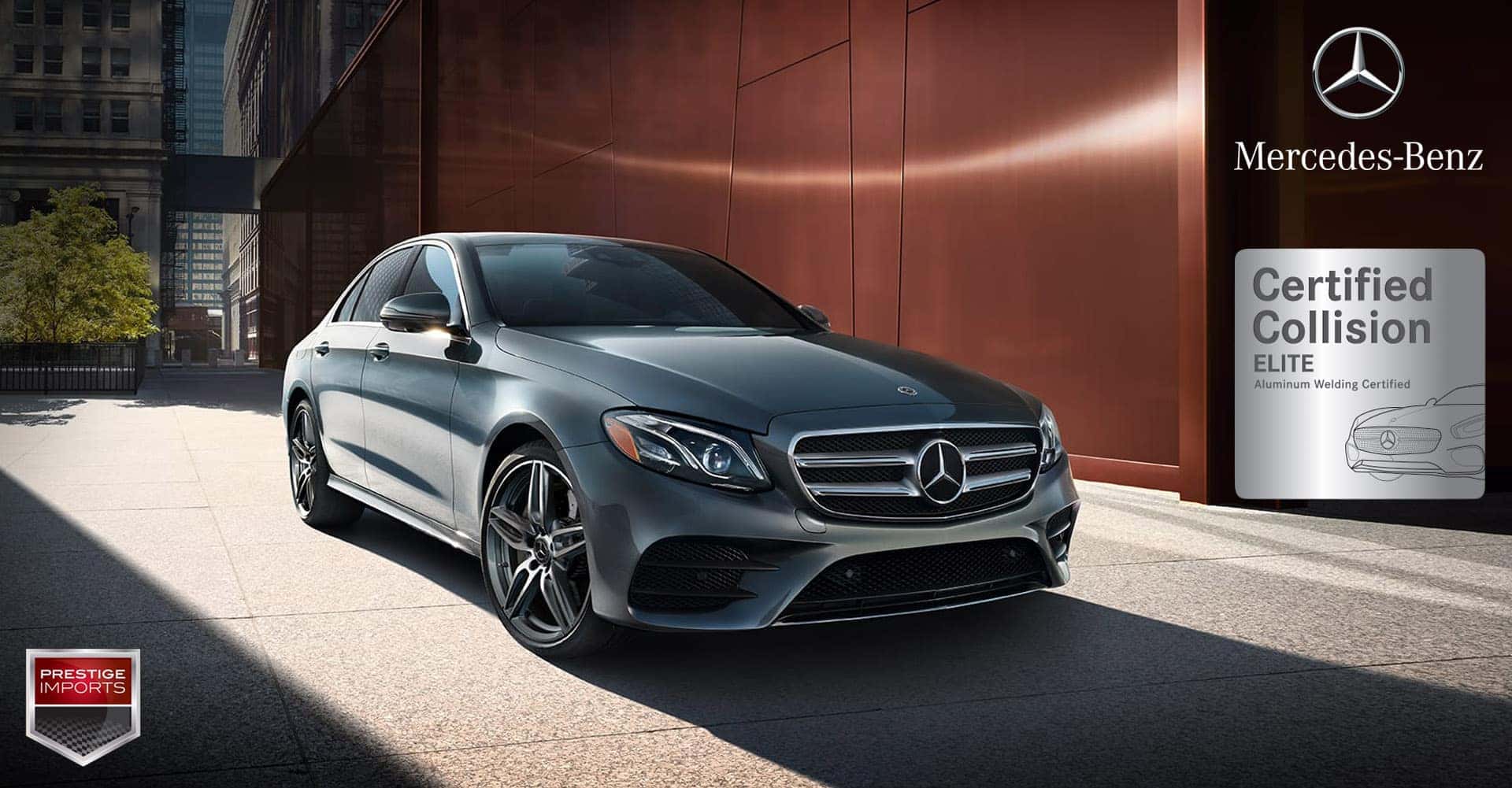 Prestige Imports is proud to be a Mercedes-Benz Elite Certified Collision Center
As a Mercedes-Benz certified body shop, Prestige Imports has what it takes to bring your vehicle back to its pre-collision condition. Our certified technicians perform all repairs using a range of approved tools, equipment and techniques. We only use genuine Mercedes-Benz body parts, mechanical components, electrical components, and safety devices such as airbags and seatbelts.
Unfortunately, accidents happen. Fortunately, we are here to help.
Although we can't predict if or when an accident might occur, as a certified Mercedes-Benz body shop, we exist for one purpose – to ensure that your vehicle receives the safety and craftsmanship that your Mercedes-Benz deserves.
We will restore your vehicle the right way – with Genuine Mercedes-Benz Replacement Parts, with Mercedes-Benz approved equipment, and with the highest levels of expertise.
As a Mercedes-Benz Elite Certified Collision Center, Prestige Imports is authorized to perform all collision repairs on all Mercedes-Benz passenger vehicles including aluminum structural repairs.
Trust only a certified collision center to repair Mercedes-Benz safety components
From the invention of the crumple zone to countless improvements in occupant protection and accident avoidance, the safety innovations of Mercedes-Benz often set a standard that all automobiles eventually follow. Advancements in vehicle safety technology incorporate many different electronic control units, sensors, and cameras that assist various functions within the vehicle. These components are an integral part of the vehicle's operational, safety, and convenience features.
During a collision, vehicle safety components can sustain damage internally or in a manner that is not evident to the driver. Evaluating these sensors and control units before a collision ensures that all necessary repairs are fully understood, regardless of whether the vehicle notifies the driver of damage or failure via the instrument cluster.
This is where a certified Mercedes-Benz body shop comes in. As part of our collision repair process, the Prestige Imports Collision Center performs both pre-repair and post repair scanning and diagnosis in accordance with guidance from Mercedes-Benz USA:
Pre-repair scanning and diagnosis – Reveals any potential issues early in the estimating and repair process to allow for a more complete estimate of repairs.
Post-repair scanning and diagnosis – Ensures that the vehicle's safety and driver-assist systems are operable and fully functioning. Many of the safety and driver-assist systems that may have been activated during a collision require vehicle calibration, normalization, or coding.
Genuine Mercedes-Benz replacement parts
Only Genuine Mercedes-Benz Replacement Parts are manufactured, approved and tested to meet the exact specification of each Mercedes-Benz vehicle. Prestige Imports uses only Genuine Mercedes-Benz Replacement Parts.
Quality and craftsmanship you can trust.
Genuine Mercedes-Benz Parts fit your vehicle like no others can. They're engineered specifically to function with their fellow parts and systems, and they're constructed from the finest materials available. They're also subjected to rigorous testing, which means each part comes fully certified.
When Genuine Mercedes-Benz Parts are installed by a certified Mercedes-Benz body shop, you can be confident that your vehicle will perform up to its potential, mile after mile.
Seamless integration
Mercedes-Benz does not approve of the use of aftermarket or third-party replacement parts. Mercedes-Benz vehicles are tested and certified as an entire assembly. Each part plays a role in the overall operation of the vehicle. All parts are optimized for fit, function, safety, and structural integrity. This means that each part works harmoniously with safety systems like Antilock Braking, Acceleration Skid Control, and more.
No salvaged or recycled components … ever
Mercedes-Benz does not approve of the use of components removed from a vehicle that was damaged, burned, flooded, scrapped, or involved in a previous collision. Salvaged or recycled parts may have been subjected to crash impact loads, exposure to outside weather, excessive wear, high temperatures, or extreme forces during removal from the donor vehicle.
None of this is compatible with Mercedes-Benz quality, and Prestige Imports will never use salvaged or recycled components on your Mercedes-Benz vehicle.
Attention to detail – fasteners and adhesives
Mercedes-Benz advises the replacement of all associated fasteners during a collision repair. Fasteners that have been worn, broken, or deformed during a collision must be replaced with Genuine Mercedes-Benz replacement parts.
Additionally, Mercedes-Benz only allows the use of adhesives that are specified in official published repair documents. These repairs have been fully tested using the components, products, and procedures specified.
The Prestige Imports Collision Center strictly adheres to these guidelines, ensuring the safety of vehicle occupants and the lasting beauty of the vehicle.
Prestige Imports, your certified Mercedes-Benz body shop in Denver
Accidents are unfortunate and unpredictable. If your vehicle is involved in one, choosing a certified Mercedes-Benz body shop can make all the difference.
Bring your Mercedes-Benz to Prestige Imports for the quality of repair mandated by Mercedes-Benz USA. At Prestige we believe your car deserves the level of expertise necessary to restore it to original factory specifications, and nothing less.
This same commitment applies to all of our Collision Center certifications: Acura, Audi, Honda, Jaguar, Land Rover, Mercedes-Benz, Porsche, Subaru, Tesla, and Volkswagen. We have invested over one million dollars in equipment and training to ensure our qualifications to repair these vehicles to the highest manufacturer standards.
If your Mercedes-Benz requires body repair after a hail storm, collision or other accident, please fill out the form on this page. One of our repair specialists will contact you as soon as possible. You may also give us a call at (303) 557-5937 or visit us at 1590 Dover St., Lakewood, CO 80215. Stop by today to experience the Prestige Imports difference!
Collision Center Hours:
Monday – Friday
8:00AM – 5:00PM
---
Call Us: (303) 557-5937
---
Stop By:
Prestige Imports Collision Center
1590 Dover St.
Lakewood, CO 80215
---
Schedule an Estimate:

---