Prestige Imports App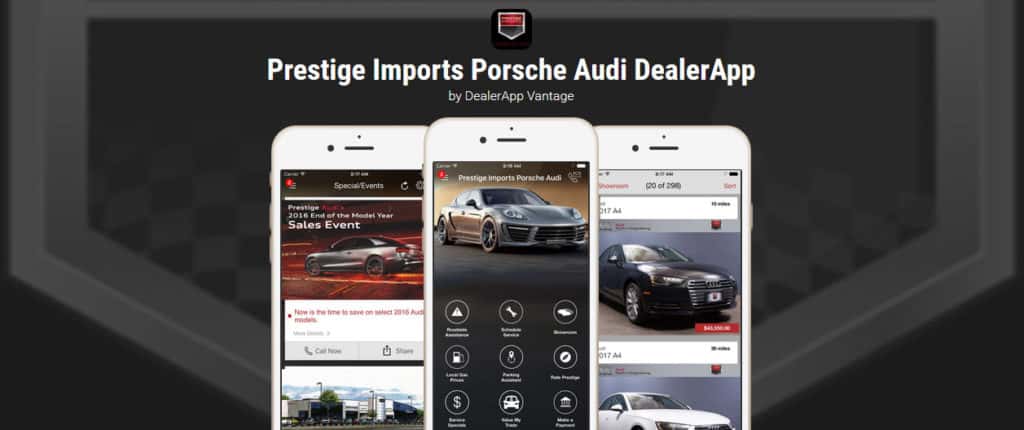 Have a smart phone? Now you can connect with Prestige Imports wherever you are, using our FREE App. The Prestige Imports App is available for iOS and Android. Just search for "Prestige Imports" in your App Store.Here are some of the things our app can do for you:

MESSAGES
Check out the "Postboard" for new messages, coupons and specials straight from us to your device! You can even reply to these messages directly.
MY GARAGE
Keep track of all your own personal vehicles in "My Garage". Add a photo of your vehicle and track things like VIN, Year, Make, Model, License Plate, Oil Type, Tire Size, Date Purchased, Price Paid, Initial Mileage, Insurance Company, Policy Number, and add all the extra notes you want.
SERVICE HISTORY
Service History is also available for each vehicle in "My Garage", see pending service appointments, add them to your calendar, and mark them as completed when finished! These completed appointments will be retained in your history.
TOOLKIT
The "Toolkit" contains super useful tools for you to use everyday:
Call Roadside Assistance
One-touch Service Scheduling
Find local gas prices
Parking Assistant with GPS locater and meter timer
Leave us a rating on RatePrestigeImports.net
SOCIAL MEDIA
Our Twitter feed and Facebook wall is parsed right into the app making it super easy to check out what we are talking about.
Twitter and Facebook integration allows you to retweet and post anything to your own Twitter feed or Facebook wall!
NEWS
Manufacturer news helps you keep up-to-date with all the news and happenings in the Porsche and Audi worlds!
CONTACT US
Interact directly with the us:
Call and email each department
View operating hours
Get quotes on vehicles
Our Free Prestige Imports App was recently featured in Dealer Magazine.
Questions?
Send us a message to learn more!