Jeff Silverberg, COO: A Prestige Profile
---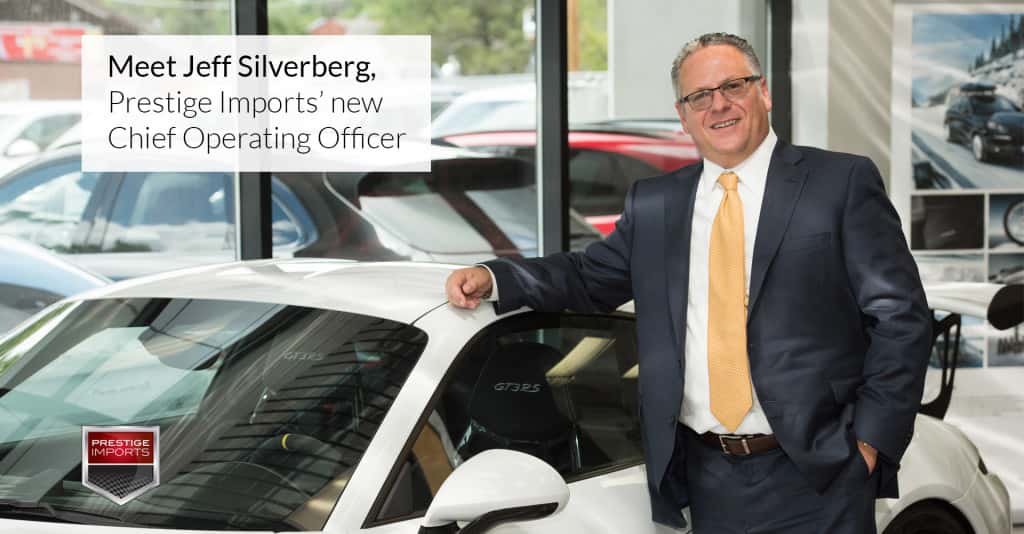 Meet Jeff Silverberg, Prestige Imports' new Chief Operating Officer
A few weeks ago, Jeff Silverberg became the new Chief Operating Officer of Prestige Imports. As Silverberg transitions into his new role as leader of the Rocky Mountain Region's oldest Porsche and Audi dealership, he brings with him many years of experience in the automotive industry. In order to discover something of his past, as well as his plans for the future, I sat down with Jeff and peppered him with a few questions about his life, career, and business philosophy.
The Early Years: From New York to Florida
A native New Yorker, Silverberg had what he calls a "good upbringing," growing up in a "wonderful suburban house" and garnering an education in a "quality school system." But far from immersing himself in such comforts and insulating himself from the surrounding world, Silverberg got a job working in the Construction Laborer's Union in White Plains, New York during summer breaks. Of his experience in the construction industry, Silverberg says: "it changed me immensely." More precisely, he notes that "it taught me the value of identifying with every type of person, as well as appreciating and respecting all lines of work." These early experiences, then, taught him "what an honest day's work really means. That has stayed with me to this day."
Silverberg eventually headed south and enrolled at the University of Florida where he earned his degree. While searching for a position in his field after graduation, Silverberg began selling cars to pay the bills. Of his origins in the industry, he says: "Like most people in this business, I stumbled into a rabbit hole and woke up one day selling cars. I was a car salesman: a college-educated salesperson with an Engineering degree. Which wasn't the plan." According to Silverberg, though: "I was good at selling cars. I liked people. I liked negotiating. And I enjoyed the environment: it's loose and not overly structured. In many ways, I was working for myself. Since I did well, I was promoted into management very quickly. At that point, my career took off."
A Career in the Car Business, A Life-Time Commitment
"After about five years in the business," Silverberg recalls, "I realized that I was in it to stay." With the realization that his career in the car world was a life-time commitment, he decided to work as hard as possible in order to excel in the industry. To this end, he notes that "I was ambitious and had a lot of opportunities, so I capitalized on them and succeeded. I'm proud of what I've accomplished." Most recently, Silverberg ran a Chrysler/Jeep dealership in Hollywood, Florida. Previous to that position, he was in charge of a large Honda dealership, which sold nearly five hundred cars a month.
His longest tenured job, though, was at AutoNation. During the course of eighteen years with the company, he held many titles. For six of those years, he was a member of the Florida Region Management Staff that oversaw the operations of sixty-six dealerships. "My primary function," Silverberg mentions, "was Finance"; but he makes sure to add that he received "one heck of an education" which provided him with an expansive view of the industry and its operations. When managing that many individual dealerships, "you learn a lot about best practices and differences between brands." Moreover, his job at AutoNation supplied him with an understanding of "not just my world of Finance and New and Pre-owned Sales, but also Service, Parts, Collision and accounting."
Armed with an arsenal of experience, knowledge, and skills, Silverberg developed a particular perspective on what it means to have a career in the automotive industry. "No one's going to remember how many cars you sold," he says; likewise, no one will remember "How many were new, how many were used, how many you serviced, repaired, or how many parts you sold." What people will remember, according to Silverberg, is the "type of person you are. I sleep very confidently knowing that, when my name comes up in South Florida, the words integrity, honesty, empathy, and work ethic are mentioned. I'm proud of that fact. And it's not by accident; rather, it happened through a lot of hard work and caring." At the end of the day, he believes that "your reputation is all you have. That's what I'm bringing to Colorado."
Welcome to Denver, Lakewood, and the Front Range
Silverberg moved to Colorado with his wife and one of his daughters, while two of his daughters remain in Florida to finish college. He also has a son who is a two-time, U.S. junior national championship cyclist and is now in his second year as a professional rider. "We're a cycling family," he notes, "and now we're part of a cycling community, and a dealership that sponsors a cycling team. It's a great fit. Maybe it's destiny." His family is excited about "living near the mountains and experiencing seasonal changes." Moreover, they have found that, in the Mile High City, the "people are friendly, and the quality of life is wonderful. And Denver has a style of it's own," which they find appealing.
Of course, Silverberg also looks forward to working at Prestige Imports. "I'm very fortunate to inherent a successful store that my predecessors worked hard to create," he says. "A store that has a great reputation, a large community footprint, loyal employees, and, most exciting to me, an opportunity to grow our business." He's also pleased to be working with Porsche and Audi: "I could not pick two finer brands. The fact that they're together at Prestige, and I'm also here, is my very good fortune." Both the brands' reputation and Prestige Imports' history instill a sense of responsibility within Silverberg: "I'm going to live up to their expectations and keep this store at the pinnacle of Denver's premium luxury market."
In order to do so, Silverberg knows that the dealership must remain focused on the customer: "We're not going to take for granted what we've been given by our loyal owner base. My job is to continue to impress and delight them." Indeed, he's also quick to note that his "office is right in the show room, so if there's anything customers need," they know he's on site and available to help. "I want to see the faces of our clients," he says, "and I want them to see mine."
Visit Jeff Silverberg at Prestige Imports
Whether you're a long-standing customer of Prestige Imports or just looking for your first Porsche or Audi vehicle, stop into our dealership to meet Jeff and check out our full-inventory. We're located at 9201 West Colfax Avenue between Wadsworth and Kipling. We can also be reached at (888) 446-4994.